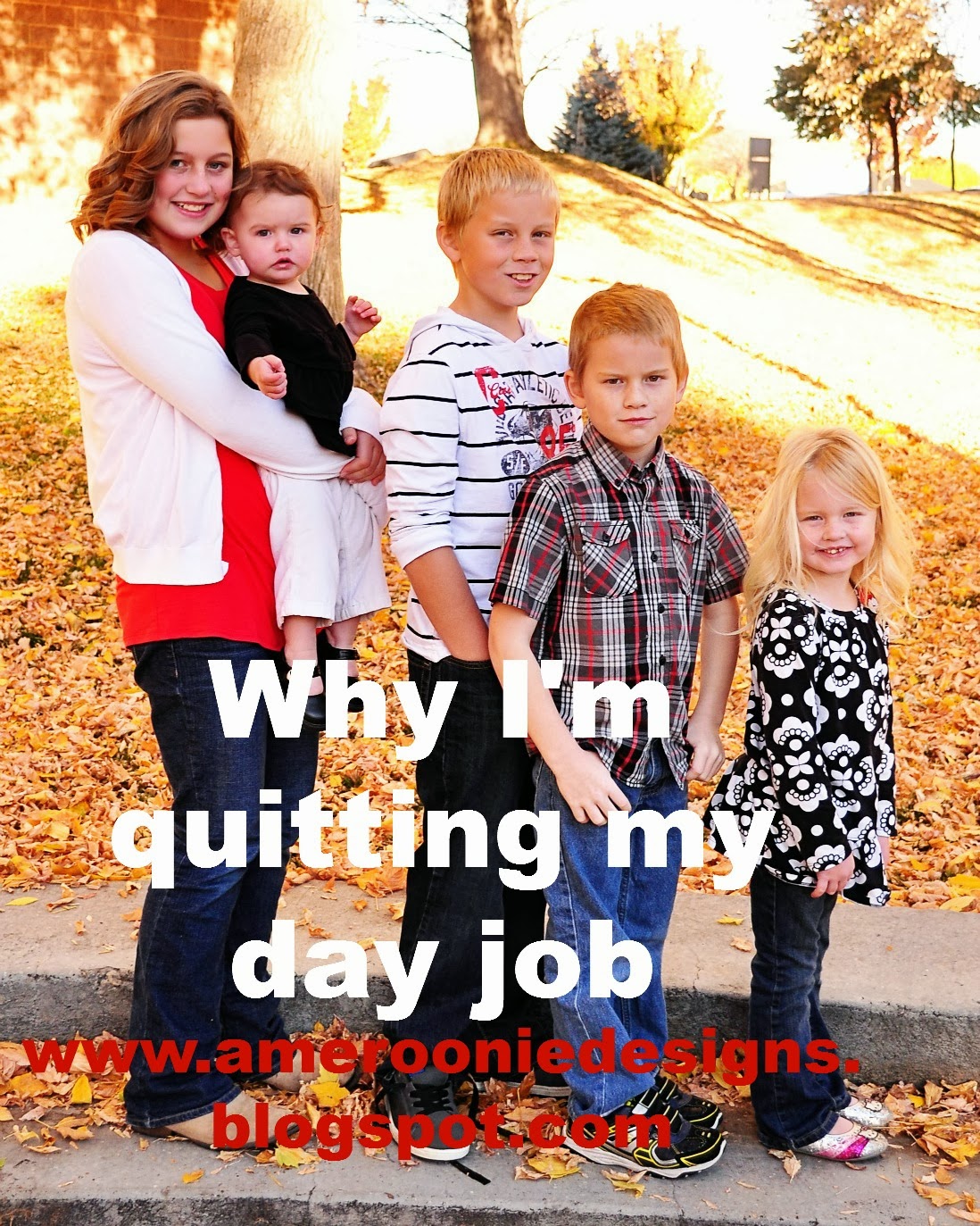 I'm not even sure I'm going to give them 2 weeks notice.
Before you start panicking that I'm leaving my family, let me reassure you that I have no intention of doing that.
The job I plan to quit is the job of Chief Enabling Officer. The job mostly involves nagging, yelling, cajoling, reminding, hurrying, watching, checking, reminding, nagging, and repeat.
It's a lousy job and the pay is terrible. Benefits include (but are not limited to): dependent, lazy, entitled, whiny, incompetent children.
I'm sure you're wondering why I'd want to quit.
Parenting is my #1 job, it's my main focus and where I put 90% of my time and energy. But honestly, it's the most important job I've never had any training for. It's a learn-as-you-go kind of gig and sometimes you find yourself heading swiftly down the wrong path. It's time to make a U-turn.
I read a few books over the summer about parenting. Some were great, others not so much, but most of them were on the topic of Entitled kids- kids who feel like everything is "owed" them, should be handed to them without any effort on their part and who think life should be easy. The books contend, and I agree, that it's a major problem in our society right now. I was looking for answers on how to combat this problem in my own family, where I could put the blame, who needed to be brought back into line. The answer I found?
That person is me.
I try to give my kids responsibility, they have jobs every day. They are in charge of their homework. They are asked to help look after their little sisters so I can work. Seems like I'm doing okay, right? But when you look a little closer- sure they have jobs, but I micro- manage their execution. They should do a good job! They have to do homework, but I nag and cajole them to "Get It Done!"
With one hand I give them responsibility. Tell them they can do it on their own. Promise rewards of confidence and ability. But with the other hand I pin them down. It's like giving them wings made of lead.
And, I've decided to quit.
It's scary. You don't want your kids to fail. You don't want them to get discouraged. You want them to be happy and safe. But wrapped up in the cocoon of our love and smothering parenting- they never learn to fly. They need to struggle and overcome to obtain the strength needed to head out on their own to new horizons. I've had moments when I've been able to let this happen, but in the day to day execution of our lives- I'm a big fat failure.
So here's the job I'm applying for:
Life coach/ cheerleader
Requirements include:
Teaching staff to properly execute jobs, then allow them to work independently with minimal oversight.

Communicate expectations and responsibilities along with rewards and penalties then allow staff to make decisions.

Based on decisions in previous exercise, execute reward and penalty program.

GET OUT OF THE WAY.
Benefits:
Confident capable children who know how to manage time, understand rewards and consequences and work independently.
Warning: may also result in free time and a clean(er) home.

Notes: This a difficult job. There will be much resistance from the staff as more responsibility is placed on their shoulders. There will be comparisons to other "companies" who run differently. It will require dedication and commitment to the program on your part. It may require a significant output of energy in the short term to teach and communicate. It will require you to watch your staff stumble and fall without your interference. Executing the penalty system will be much harder than executing the reward system, but it is critical they are given equal importance. Above all, it will require an understanding that you are not raising children- you are raising future adults.

I'm not sure I'm qualified for the job, but I think I'm ready to give it a try. The payout is much too important to wait any longer.

Do you want to join me? Or at least give me some on-the-job training? I'd love to hear your ideas and advice in the comments.

xoxo,
Amy

p.s. If you're interested in the books I read-
Cleaning House by Kay Wills Wyma
Help! Around the House by Don Aslett
The Entitlement Trap by Richard and Linda Eyre