The fabric for this tutorial was provided by Riley Blake Designs for the Rainbowfruit Fabric project tour. The project and opinions are my own. This post also contains affiliate links. Purchases made through these links may result in a small commission for me at no additional cost to you. See full terms on my legal page.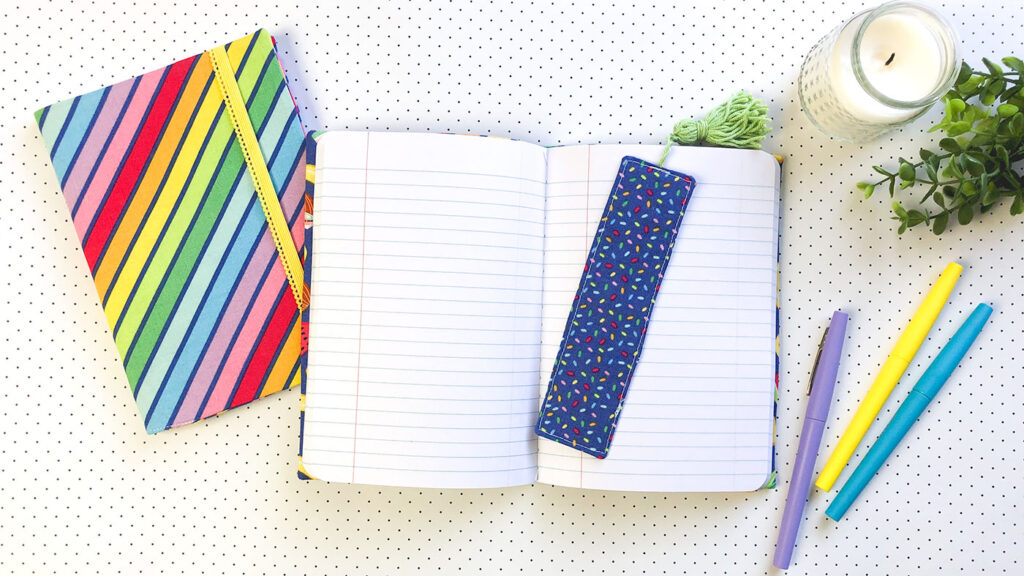 Whether you need to jot down a quick note, want a cute journal for your kids or are looking for a fun handmade addition to a gift- this tutorial for how to sew a gorgeous fabric cover for a mini notebook may be just what you are looking for! Customize the boring store bought mini composition notebook into something truly noteworthy!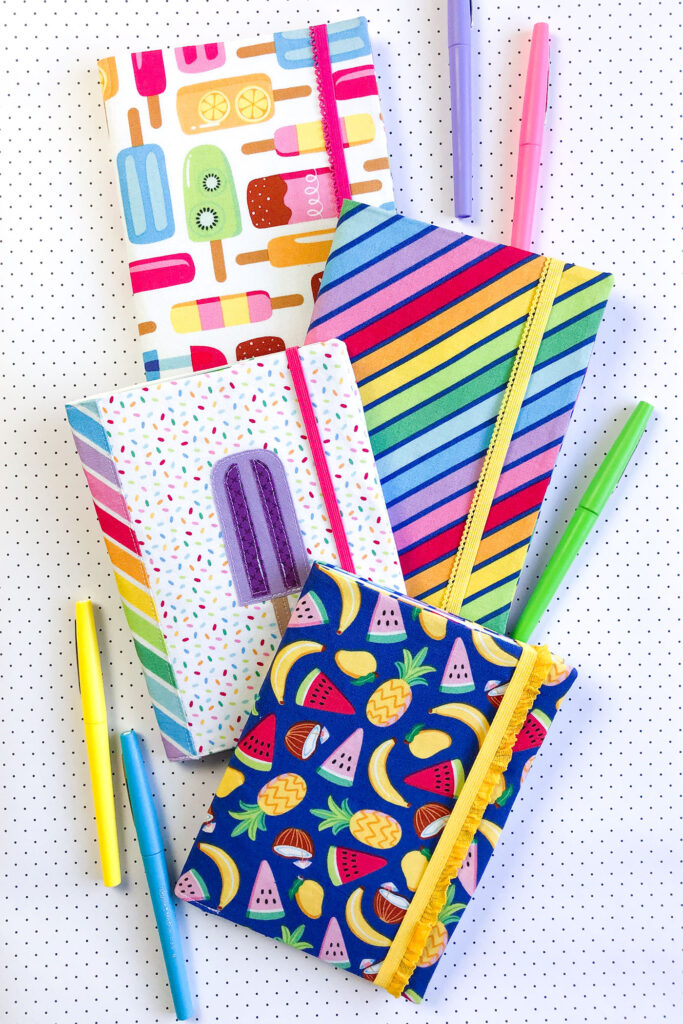 Sew some summer fun with Rainbowfruit fabric
When you have fabric as cute as this Rainbowfruit fabric from Damask Love it kind of speaks for itself. There are so many fun novelty prints in this line- from fruit, to sushi to sprinkles- they are all colorful and fun and make sewing an absolute blast! In fact, I have had so much fun with this fabric, I have used it to make the summer version of my latest pattern, A Mini Pillow for All Seasons: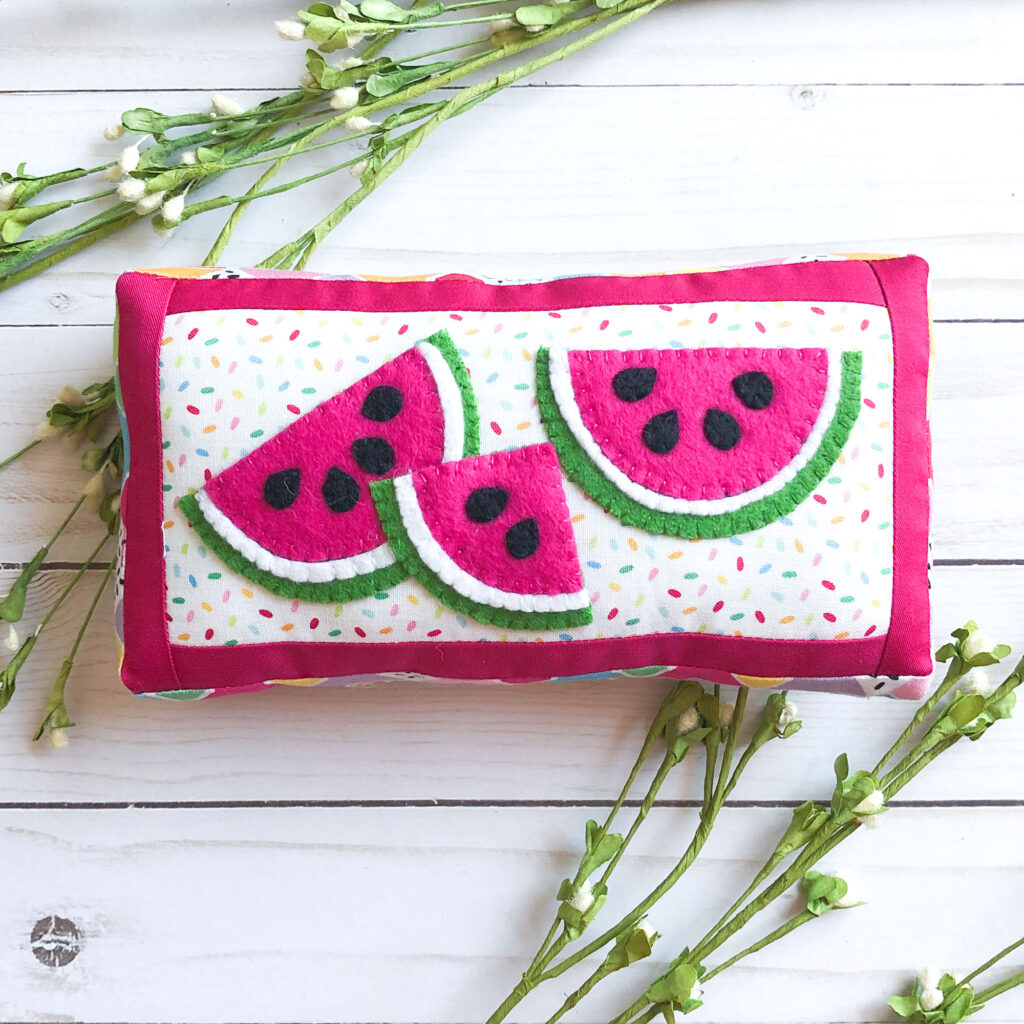 And for these quick and easy tasseled fabric bookmarks!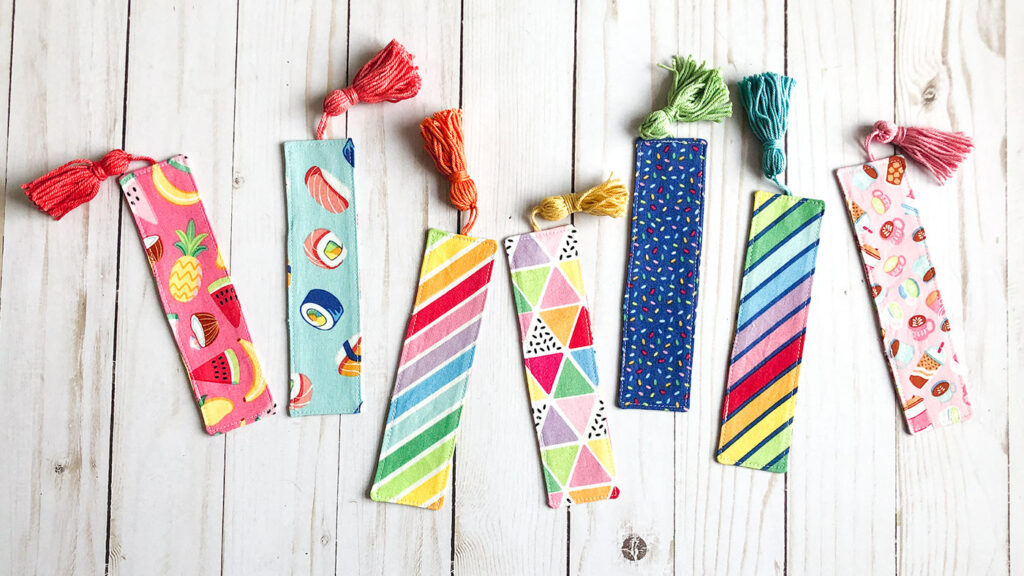 These deliciously cool Popsicle Mug Rugs– (you will notice I used the applique pattern from this project to decorate one of my notebooks! ;)) and I'm not done yet! Stay tuned next week for more fun sewing with this delightful fabric!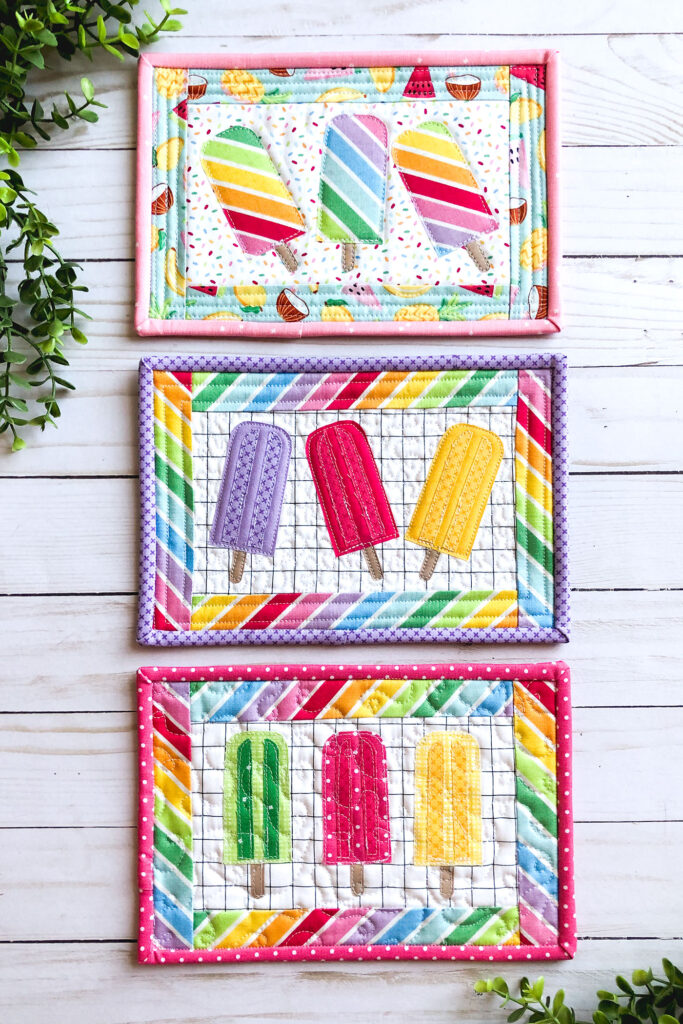 Fabric cover for mini notebook Tutorial
You can find a full video tutorial on my YouTube channel.
Supplies and Cutting: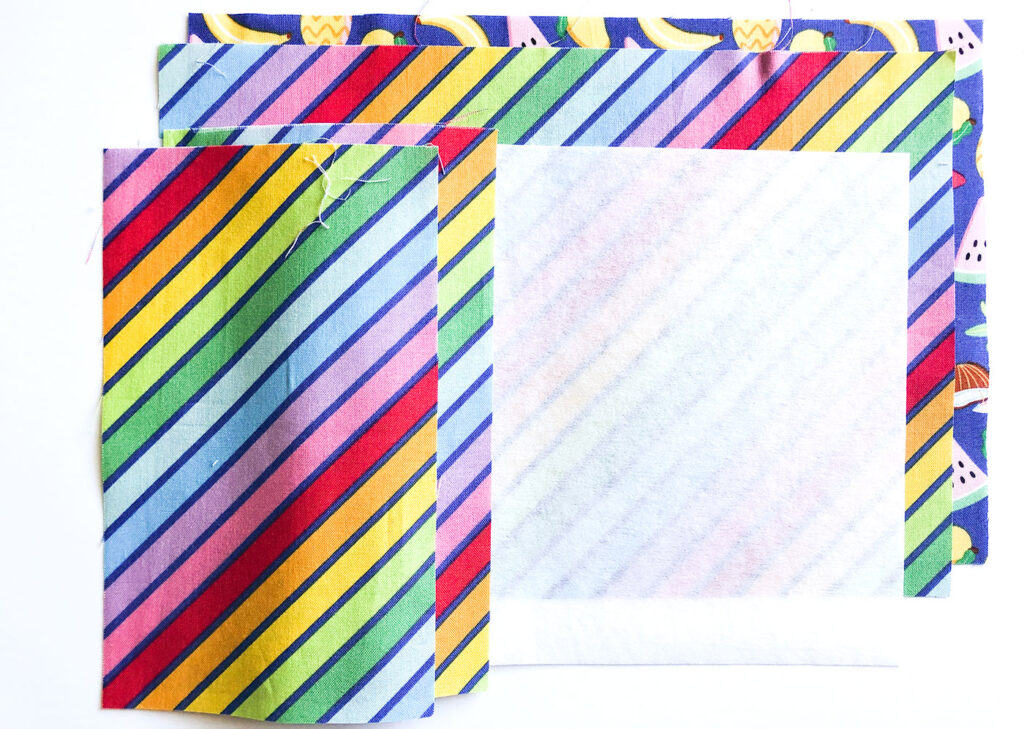 Fabric- One fat quarter will give you enough fabric for one cover. Multiple prints may also be used.

Simple cover: you will need 2- 10 7/8″ (w) X 7 1/2″ (h) pieces of fabric- these can be the same, or different prints.
Pieced cover (to make a binding accent strip): 2- 5″ (w) X 7 1/2″ (h) for cover, 1- 2″(w) X 7 1/2″ (h) accent fabric for binding, 1- 10 7/8″ (w) X 7 1/2 (h) piece for lining of cover
For both versions you will also need: 2- 4 1/2″ (w) X 7 1/2″ (h) pieces for sleeves to hold notebook

Medium Weight Fusible Interfacing: 1- 10 1/2″ (w) X 7″ (h) piece
Elastic: 1- 7 3/4″ piece
Optional: If you would like to add applique to your notebook, you will also need the pattern as well as fusible adhesive.
Prepare Front of Fabric cover for mini notebooks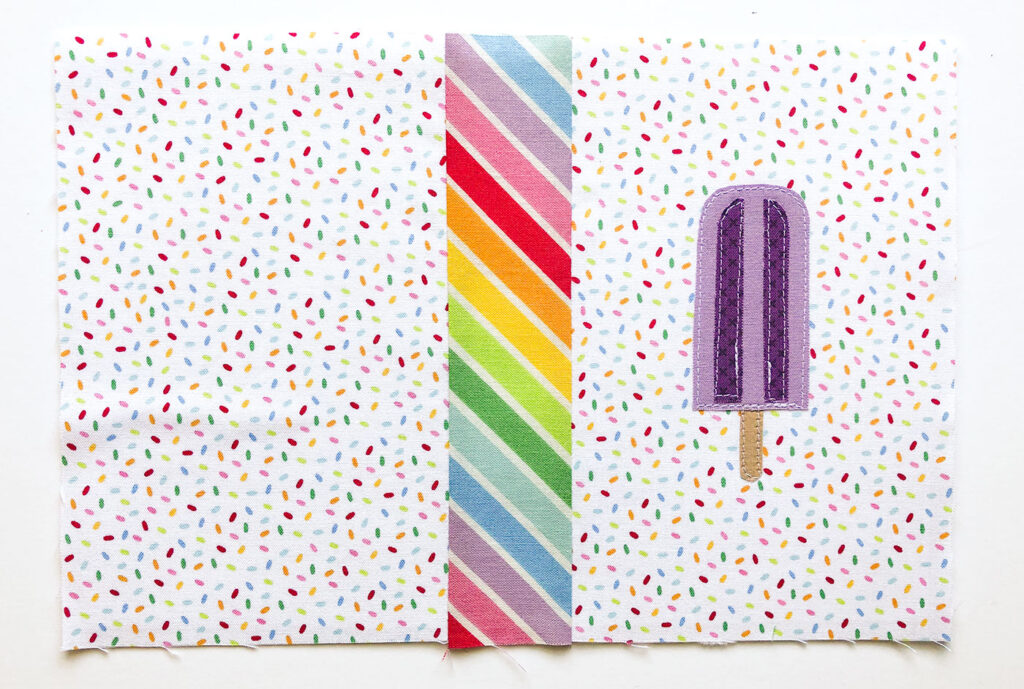 If you are adding applique, do that now. Remember to account for the seam allowances when positioning the pieces.
For making the pieced notebook cover- sew the two 5″ X 7 1/2″ pieces to either side of the 2″ X 7 1/2″ accent piece along the 7 1/2″ side, using a 1/4″ seam allowance. Press the seam allowance toward the accent strip.
Fuse the medium weight interfacing to the center of the WRONG side of the exterior of the fabric cover.
Assemble mini notebook cover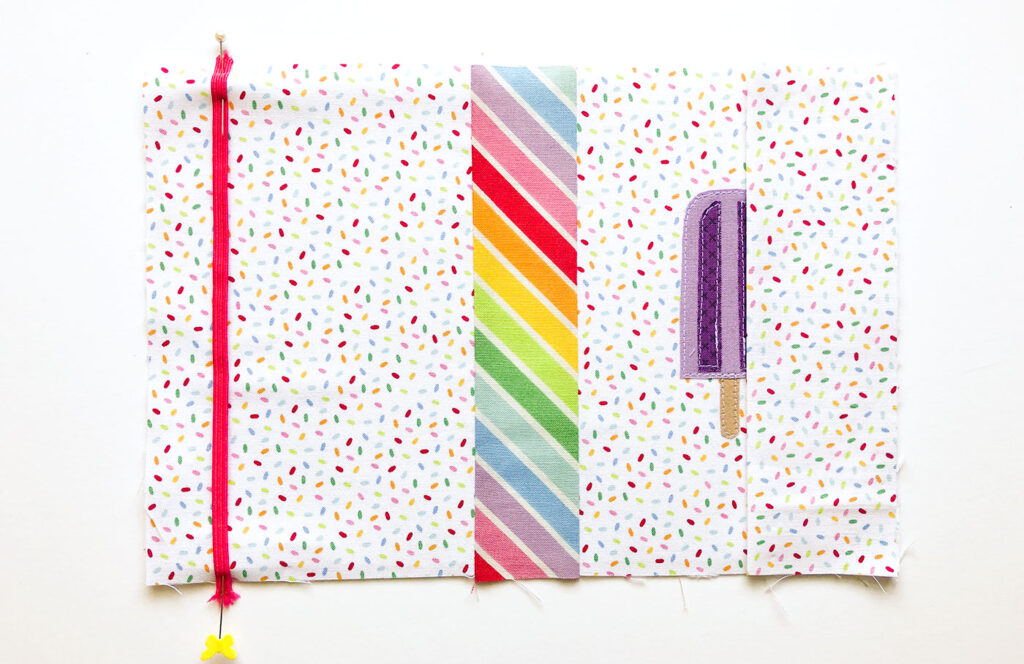 Begin by pressing the two 4 1/2″ X 7 1/2″ fabric pieces in half along the 4 1/2″ side.
Place the exterior of the fabric notebook cover right side up on your surface.
Next, measure 1″ from the LEFT side of the cover and pin the elastic in place.
Now, position the pressed 4 1/2″ X 7 1/2″ fabric pieces on either side of the exterior fabric piece. The fold should be toward the center of the fabric cover and all the raw edges on the top and bottom should be lined up.
Finally, place the lining fabric piece on top of the cover pieces, right side down, lining up the raw edges and pin in place.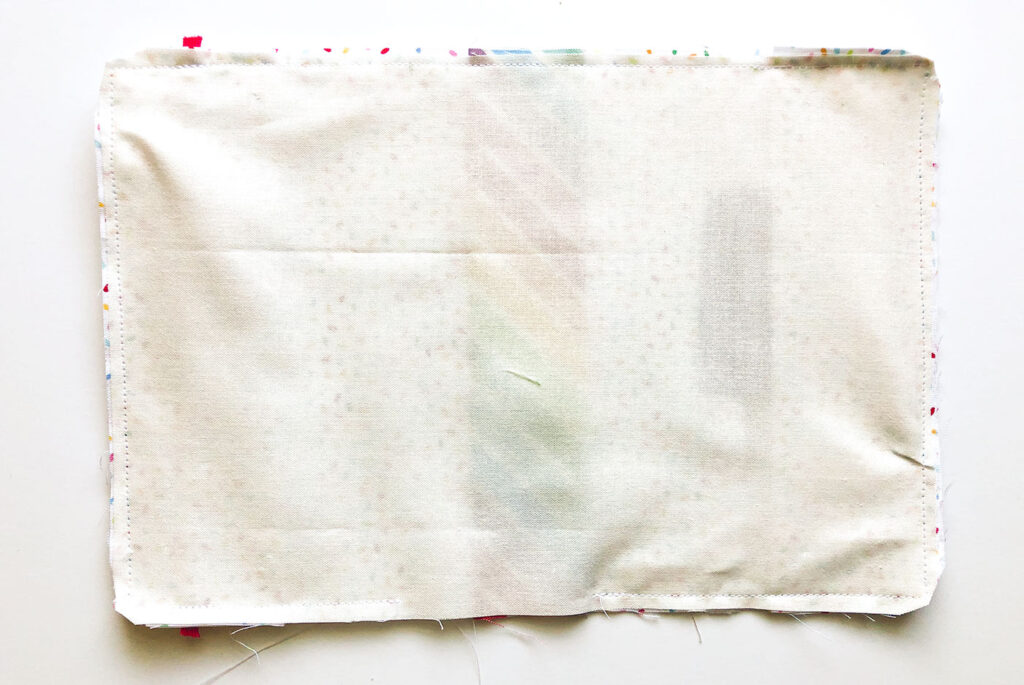 Sew around the cover using a 1/4″ seam allowance, leaving an opening for turning in the bottom. Back stitch at the beginning and ending of your sewing. NOTE: I also like to back stitch when I sew over the elastic to secure it a bit more as it will get some tension on it.
Clip the seam allowances at each corner.
Finish sewing your Fabric cover for a Mini Notebook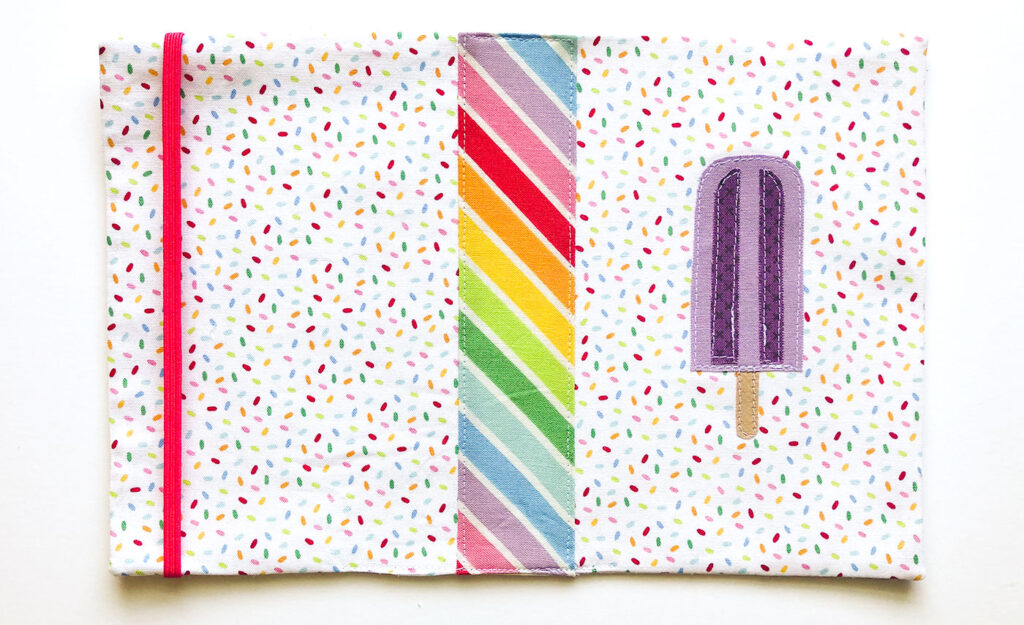 Turn the cover right side out. Push out the corners well and make sure the sleeves are toward the inside of the cover.
Press the cover well, making sure the seams are all pushed out. Also fold under the seam allowance at the opening used for turning and line it up with the bottom seam.
Sew the opening closed using an edge stitch.
Finally, slide your notebook into the sleeves and enjoy your gorgeous new cover!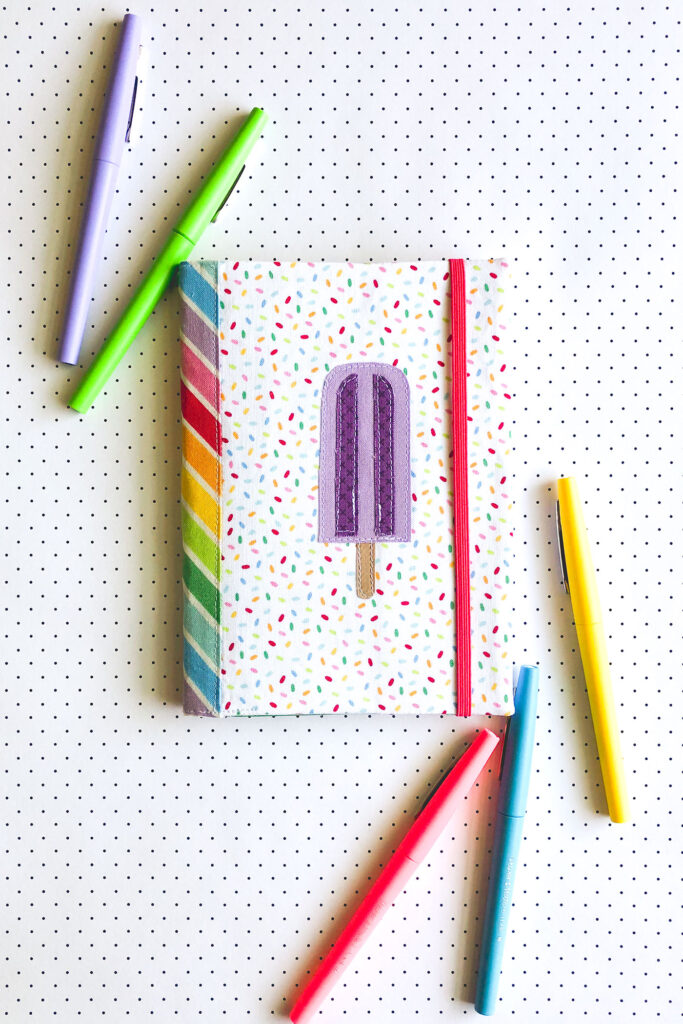 I hope you are as inspired as I have been to sew with this delightful fabric! And if you liked this tutorial, I would love to have you sign up for my weekly newsletter so you can make sure you don't miss any of the fun projects I share here on Ameroonie Designs. Sign up using the form below- and make sure to confirm your subscription so you don't miss out!
Happy Sewing! Amy