This post contains affiliate links. Purchases made using these links provide a small commission to the author at no additional cost to the buyer. See legal tab for full disclosure statement.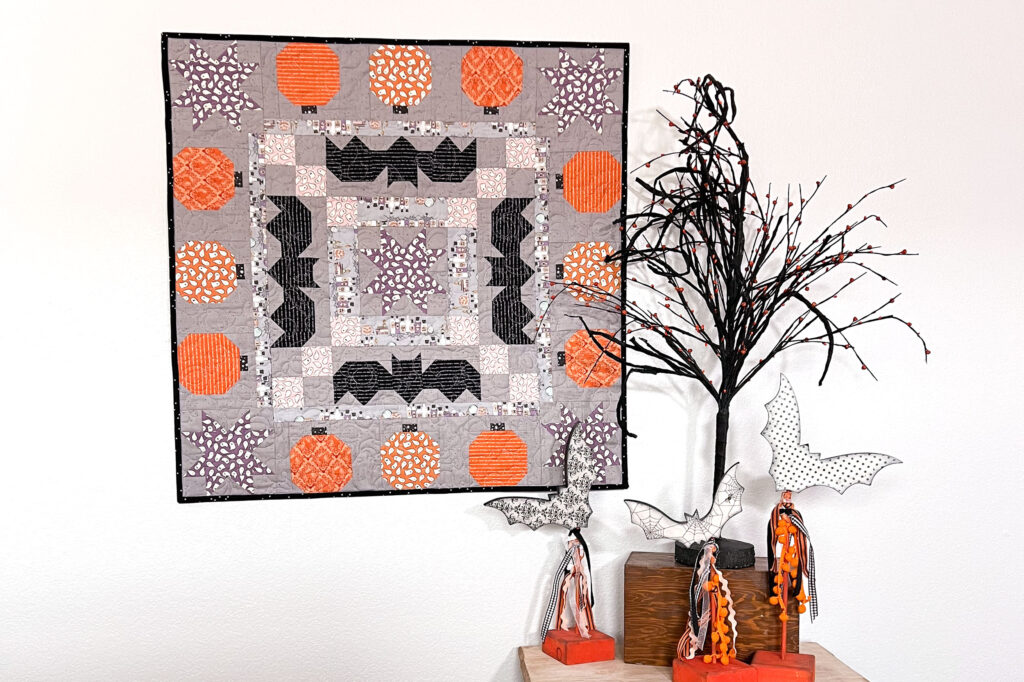 Add some whimsy and fun to your home decor with this Halloween table topper. Batty Pumpkins table topper is a fun, traditionally pieced quilted project featuring bats, pumpkins and stars. Find video tutorials for each block as well as the final assembly included below.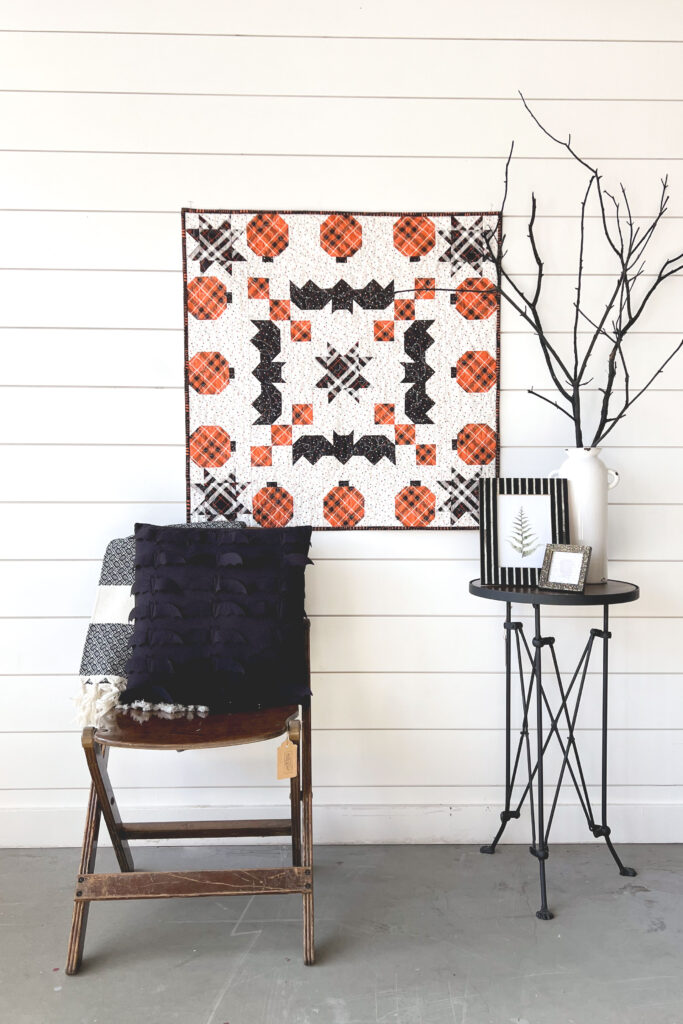 Optional Pattern Change
Recreate the modifications in the Spooky Schoolhouse version of the table topper (the gray background sample above, also the version found in the videos) by following these changes. Cut 8 Fabric L pieces 2 1/2″ wide, they were 3 1/2″ wide in the original pattern. Cut 8 additional Bonus Fabric L pieces to the same height, but 1 1/2″ wide. Sew the bonus L pieces to the sides of the pumpkin row after assembly but before Fabric Q is added to the top. (this is all included in the video tutorial for assembling the table topper)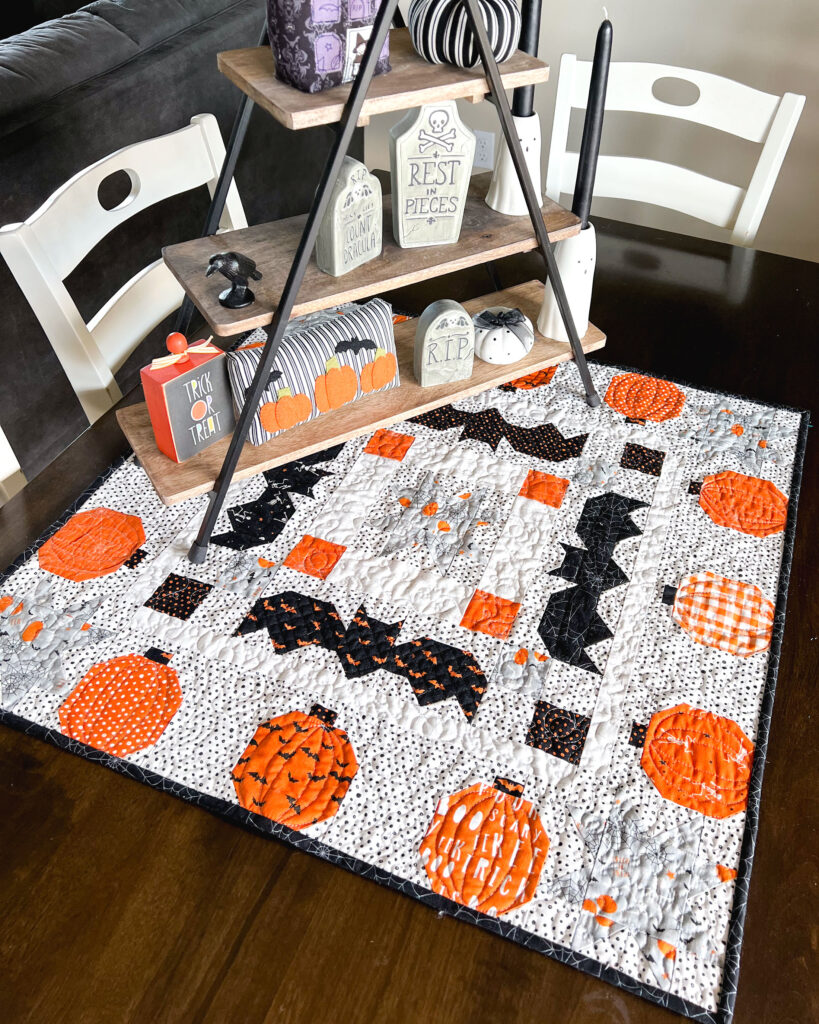 Halloween Table Topper fabric notes
Batty Pumpkins Table Topper pattern is fat quarter friendly. Select a non-directional fabric for the background. Include enough contrast between the fabrics selected for the blocks and the background so the shapes are distinct. Look for small scale prints due to the size of the finished blocks.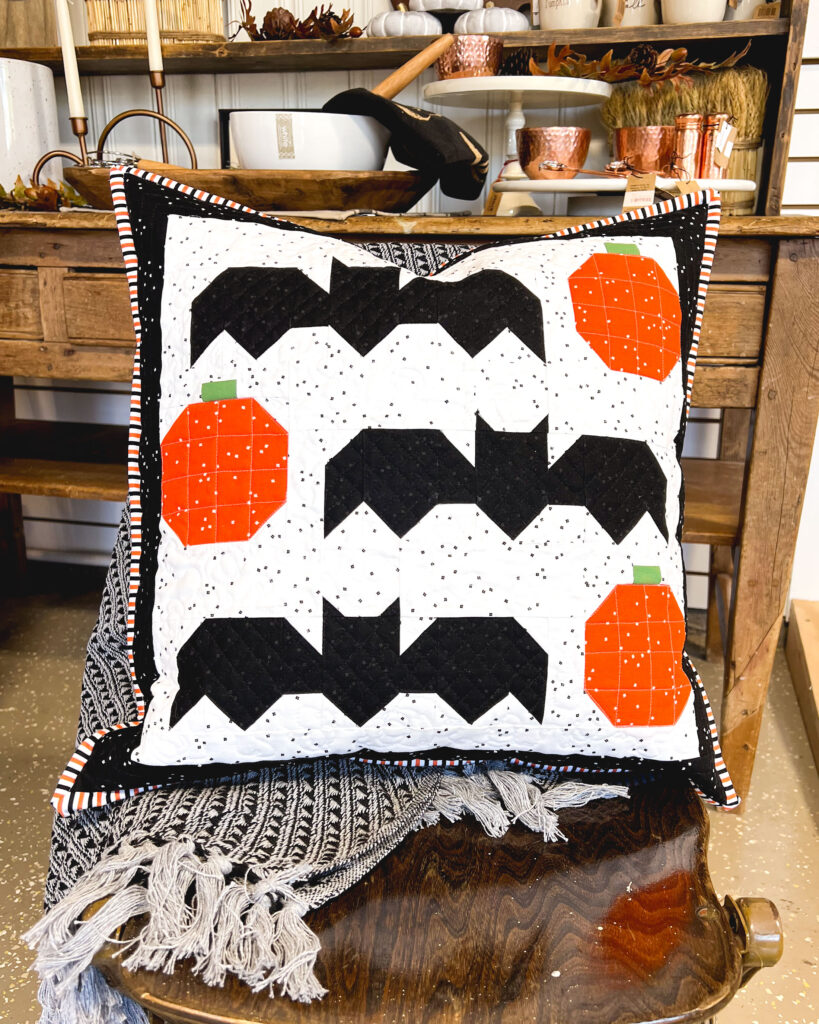 The pattern also includes a pillow or wall hanging version. The small version finishes at approx. 20″ square.
Halloween Table Topper Video Tutorials
Watch the Pumpkin Block tutorial above. The Batty Block, Star Block and finishing videos can be found by clicking on their links.
Bring the holiday right to your table with this Halloween table topper pattern. For more Halloween sewing fun, you might enjoy this Batty Pillow tutorial. Share your finished table toppers on Instagram and use the hashtag #BattyPumpkins so everyone can see! And don't forget to tag me @AmeroonieDesigns so I don't miss it! Happy Halloween Sewing, Friends!