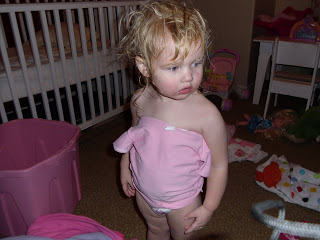 Trying to dress herself.
I have quite a few thoughts running around in my head. I'm not sure this post is going to make any sense, but I'm going to try.
Blogging is of necessity just a small glimpse into
any one's
life. Just as any reality show isn't the whole story- a
blogger's
post is edited, photo shopped and cropped to fit the space and theme available.
Whatever the genre a blogger is focusing on, she is trying to put her best foot forward.
But, I wonder, at times, if we are doing ourselves more harm than good. I believe in smiling through the tears, in looking at the bright side (remind me to tell you about my wedding reception sometime) in being optimistic and happy in the face of challenges and stress. But, I also believe in being real. I believe in being honest about the hardships and trials of motherhood/
wifehood
/ womanhood. I believe that if we share those things, we strengthen each other. We remove the barriers of jealousy, competition, assumptions and misconceptions.
As I work on my photo-shop skills, and learn how to edit my photographs so they are more visually pleasing, I hope I don't learn so well that I photo-shop my life. Even though the Avon lady thought I was crazy- I told her that the big crease in my forehead didn't bother me. The laugh lines and the cushion around the edges aren't what I'm about. Erasing those things erases me. It erases the experiences, the compassion, the understanding, the empathy I have gained through those hard-fought experiences. And hiding them behind a veil of "perfection" isn't helping anyone.
I'm really curious how other people feel about this idea- Do you only want to see the magazine-worthy cropped and staged lives of other people? Are you only interested in the ideal because you already have enough of the reality at home? Or do you look for some oneness, some similarity between what you're seeing and what you are? Would anyone else like to see Martha cry, just to know she's human?
Leave me a comment- or a link to your own ideas about this. I'd really like to know what you think.
Amy