This post contains affiliate links. Qualifying purchases made through these links may result in payment to me.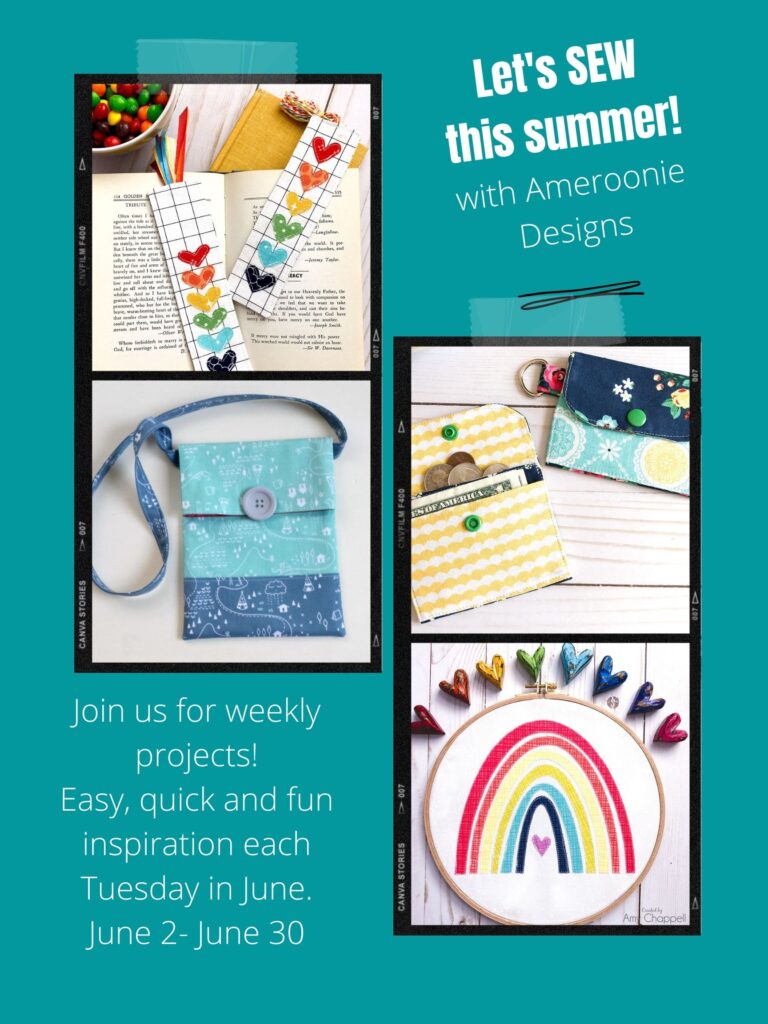 Are you looking for a way to stay creative this summer? Maybe you want to teach someone (or yourself) to sew? Join us for the Let's SEW summer sewing series and get the creative boost you need to do just that!
Sign up below to receive all 5 weeks of projects sent in one convenient email! Each week has at least one PDF pattern to print with all of the instructions and pattern pieces. Create a reference for yourself to have on hand for gifts or creative inspiration!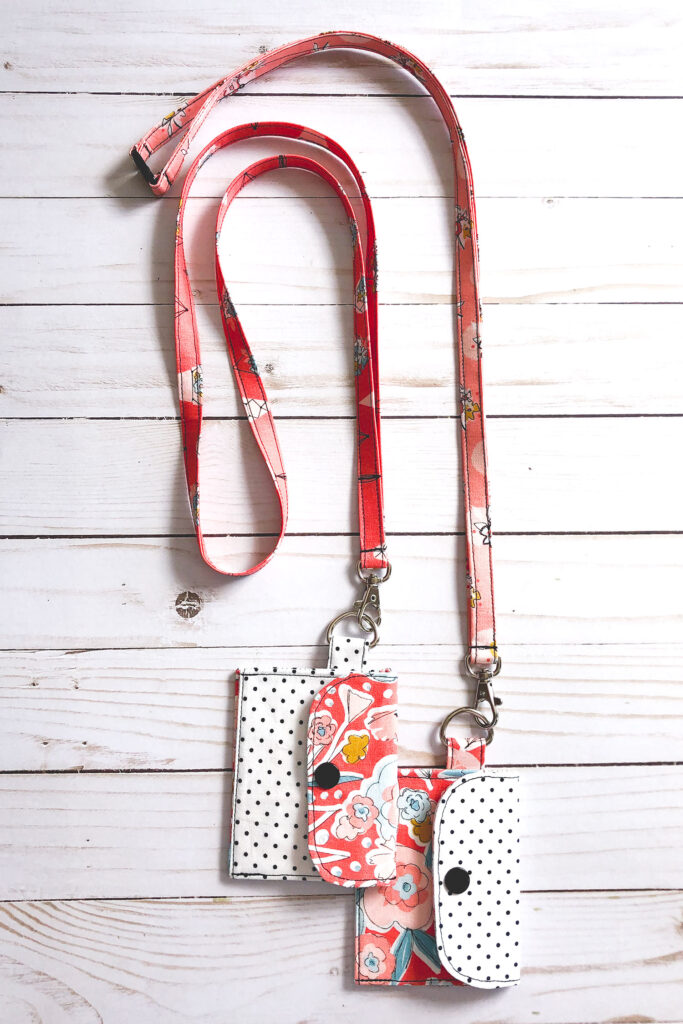 When you sign up you will also be added to my weekly newsletter so you can keep up with all things Ameroonie Designs even after the Let's Sew summer sewing series is over. You won't want to miss discounts, new pattern releases and all the good stuff I share there!
Let's Sew summer sewing series schedule:
Here are the projects I anticipate doing during this series. Please note that the schedule is subject to change, but I will do my best to stick with the plans as they are. Some projects are already published on my blog and others will be brand new. All will include PDF patterns so you can print them for easy reference as we sew!
First week- Lanyard fun. Sew a fabric lanyard and accessorize it with a chapstick holder and/or a mini wallet.
Week 2- Fabric Bookmarks. Use applique to decorate fabric scraps, turning them into colorful and fun fabric bookmarks.
Week 3- Popsicle Mug Rug. Sew a mug rug and practice applique, quilting and binding.
Fourth week- simple summer sling cross body bag for kids.
Week 5- Rainbow Applique- make another mug rug, or create a work of art for your home. Includes instructions for both felt and raw edge applique so you can make whatever your heart desires!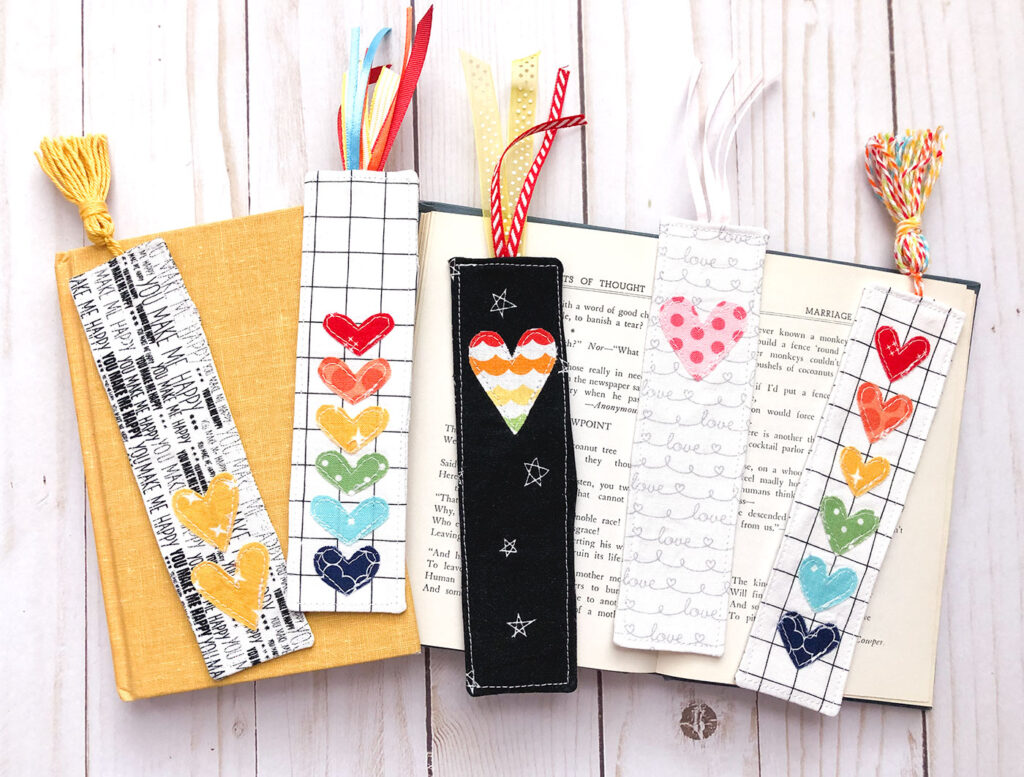 Suggested supplies:
Each week will offer options for making different projects or different versions of projects, so this is not an exhaustive list- but just some suggestions for supplies you might want to have on hand before the series begins.
Fabric- this goes without saying. But, you will need some WOF (width of fabric) pieces for bag straps and a lanyard (which will be week 1). Scraps will work for many of the projects, so raid your stash first.
Fusible interfacing- I like to use medium weight interfacing for the mini wallet and fabric bookmark because it lends stability and structure, but it's optional for both. If you need to purchase some- 1/3 yard would be sufficient.
Fusible fleece- again, optional, but if you have some it is great.
Fusible Adhesive- used for applique you won't need much, scraps are great for this.
Batting- we will be making a mug rug- so you will just need a small piece. If you don't have scraps on hand, fusible fleece, or even felt will do in a pinch.
Finally, we will be doing a rainbow applique. I will show how to do it with felt or with raw edge applique. If you want to do the felt hoop (or the raw edge applique in a hoop) you will need the felt colors of your choice (at least 6) and a 6″ embroidery hoop.
Suggested Hardware needed:
Lobster clasp- at least one, maybe 3 if you decide to make the crossbody tote. I like 1/2″ size, but you can go wider if you like. Here is the link to the ones I buy on Amazon, but I also use them from Hobby Lobby and get them when they are on sale.
D-ring- at least 3- I like 1/2- 3/4″ wide, but you could go up to 1″ for the tote.
Safety clasp for fabric lanyard. You can find the ones I use here.
Snap- regular and magnetic. If you make the cross body tote we will use one magnetic snap. The lanyard mini wallet is my favorite when using a snap closure, but this can be substituted for hook and loop tape. I have really liked using Kam snaps for these.
Join the Fun!
I am so excited for this fun series. I hope you will join in the adventure with me and even if you don't do the projects every week, you will have them in your back pocket for when you are ready to make them! Share on Instagram using the hashtag #amerooniesummersews so we can cheer each other on!
Happy Summer Sewing friends! Amy