The mini quilt kit used in this post was provided by Riley Blake Designs for participation in this blog tour. The finished project and opinions are my own.
After sweeping away the cereal and wiping up the spilled milk, I pulled the sewing machine out of the kitchen pantry. I had some fun projects to work on that day, but it certainly wasn't a very inspiring place to create. I dreamed of surrounding myself with a sewing themed mini quilt, brightly colored thread and a locked door- to keep sticky fingers away from my fabric scissors. You know, the kind of spaces you see on Pinterest.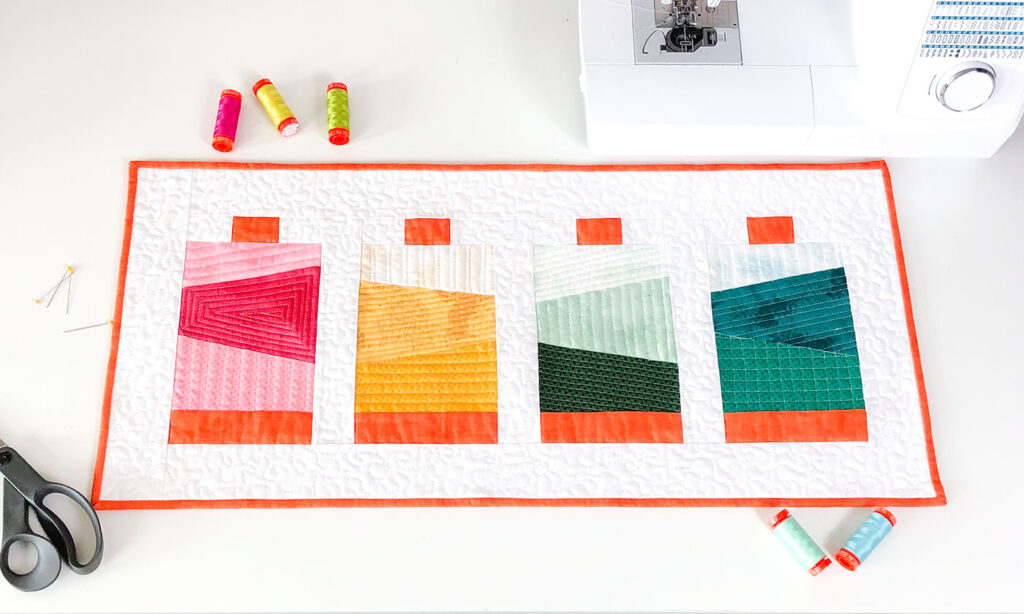 Fast forward a decade and I have my own permanent sewing space. A place to keep my machine out and lots of room to display creative and inspiring art. When I saw this Garment District mini quilt kit by Riley Blake Designs, I just knew it would make a gorgeous addition to my sewing space.
I'm actually going to hang it next to my Sewing Machine Mini quilt and my Rainbow Sunshine Mini Quilt– it'll be such a happy spot!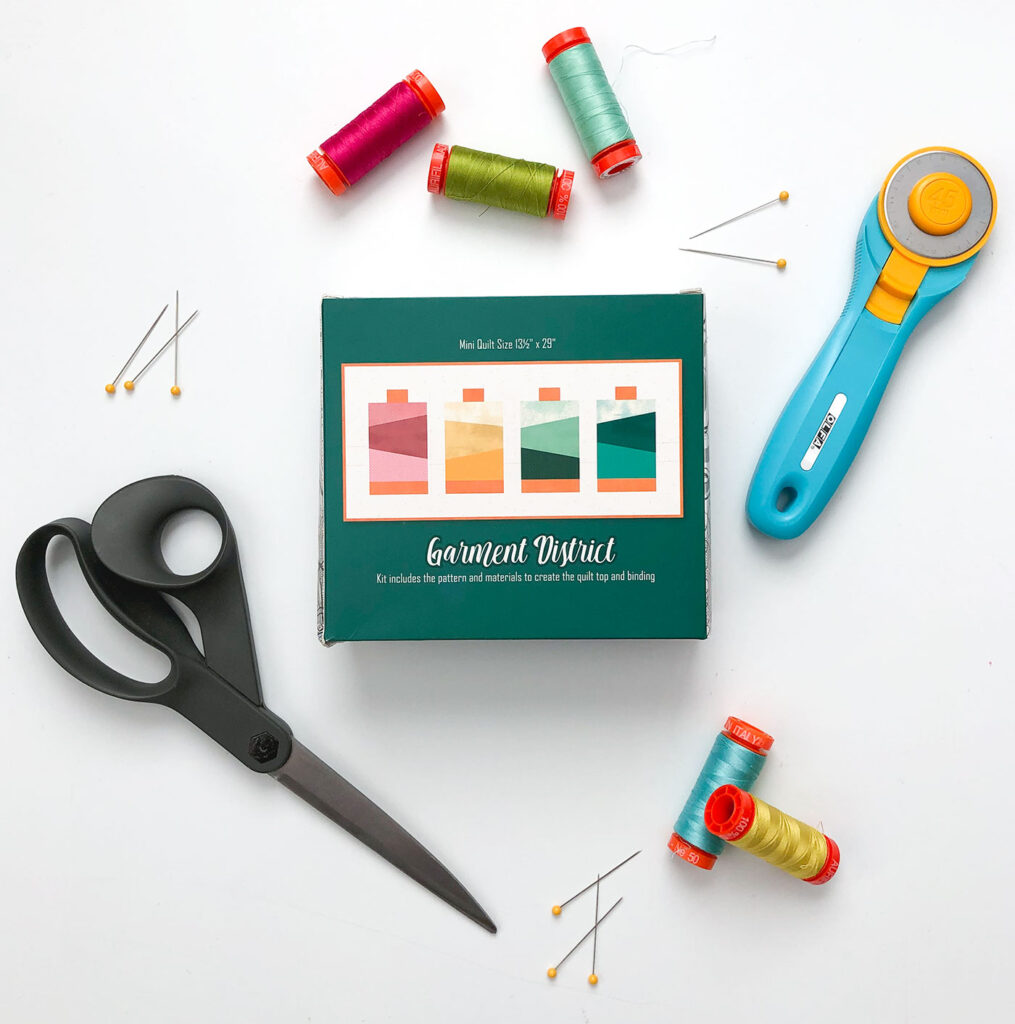 Garment District Mini Quilt
The thread spools in this mini quilt are Foundation Paper Pieced. If you have never done FPP before, this is a great project to start with. There are not very many pieces for each block and they are nice and big and easy to manage.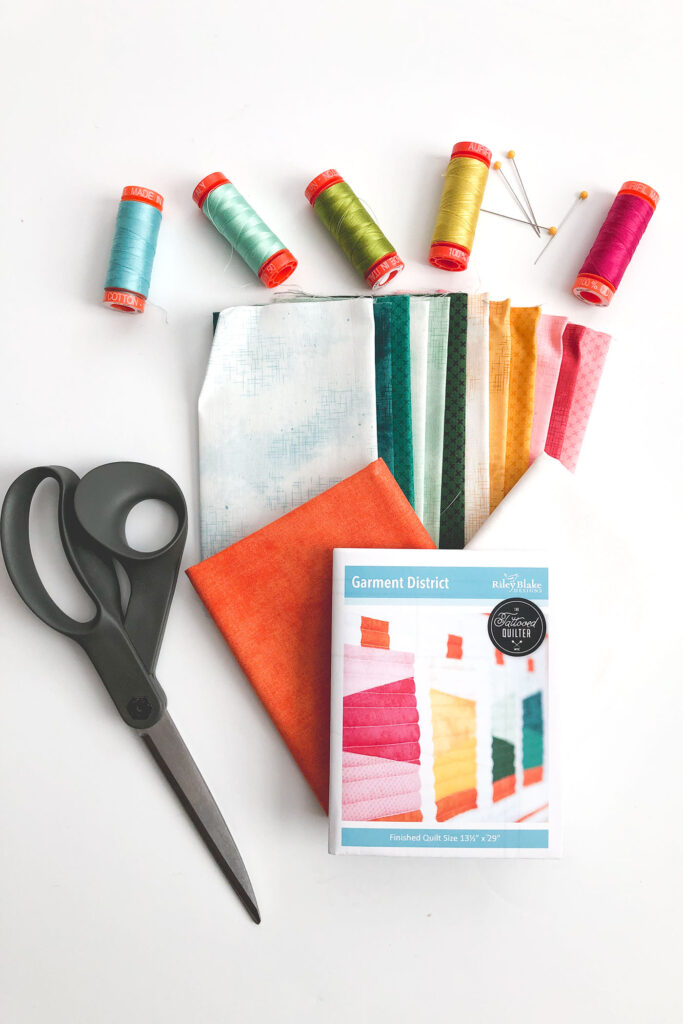 Contents of sewing themed mini quilt kit:
Included with your kit is all the fabric you need to make the front of the mini quilt as well as the binding. Backing fabric is not provided.
Directions and the pattern for the FPP blocks are included, you will need to copy the blocks onto your own paper for the FPP.
Additional supplies you will need:
batting for the mini quilt,
a cardstock sheet which is very helpful for the FPP process and
your own sewing mojo because this mini quilt kit might include almost everything you need, but it still doesn't make itself.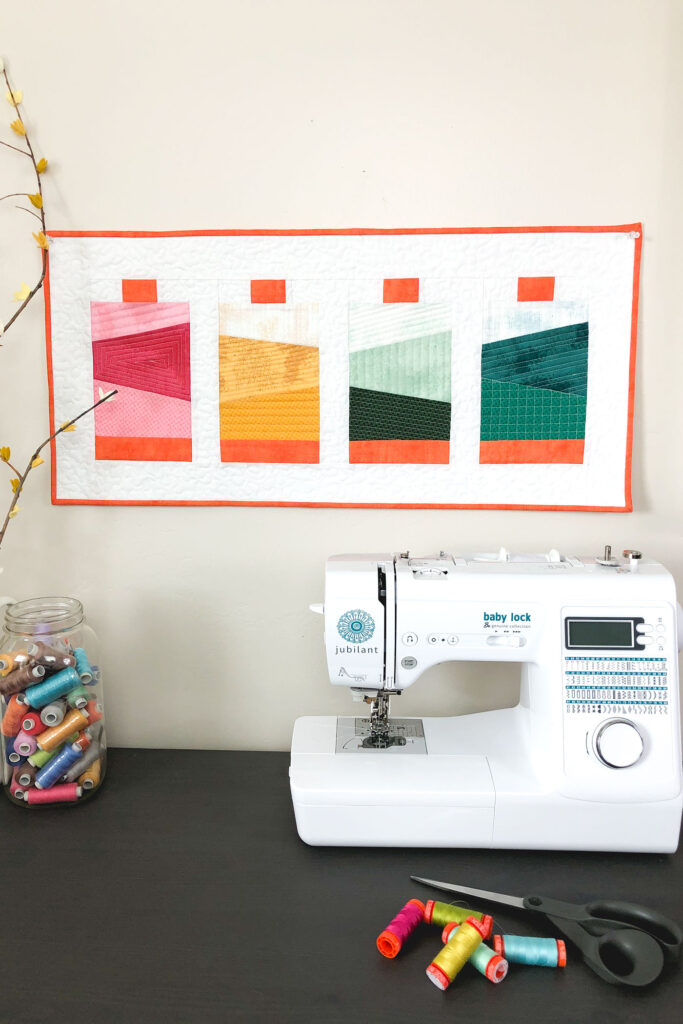 Finishing at 13 1/2″ X 29″ this sewing themed mini quilt is big enough to pack a punch, won't take up a whole wall. It is a great way to build some foundation paper piecing and quilting skills without a huge investment of time. I think you will love it!
If you want to see sneak peeks at what I'm working on, follow me over on Instagram. I share upcoming patterns, projects and lots of fabric inspiration. I hope you'll join me!
Happy Sewing! Amy