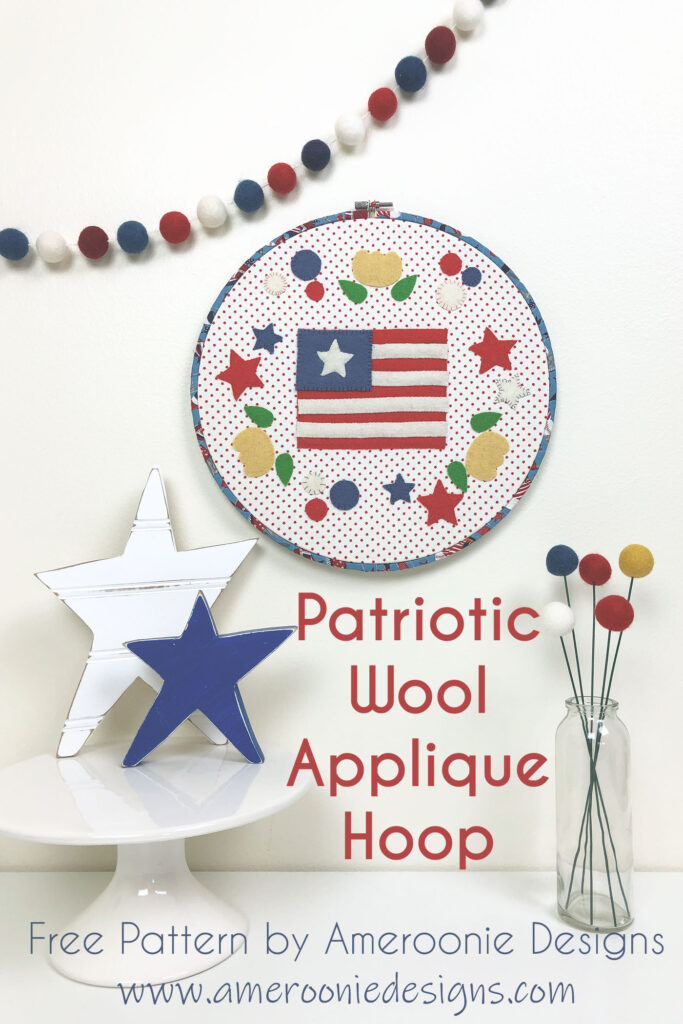 The wool for this project was provided by Riley Blake Designs, the project and opinions are my own.
I used to think that wool applique was only for primitive style projects, but with Riley Blake Designs new wool colors, that just isn't the case anymore. While they still have the deep, rich colors that you expect from woven wool, Riley Blake is also now producing bright colors to broaden the range of color choices. The wool is not yet felted, but if you want to create a thicker felt, you can wash and dry your wool before cutting out your applique pieces. I did not find it was necessary for my project to get the look I wanted. Even without felting, the wool will not unravel when cut.
Supplies for Wool Applique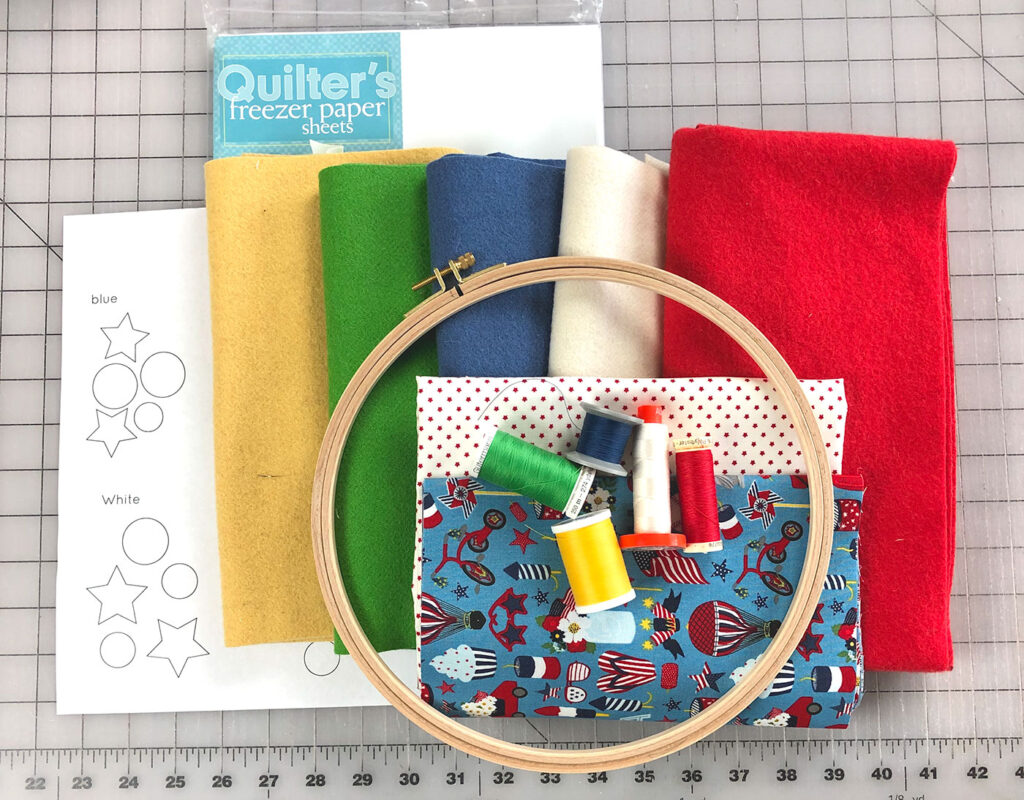 Wool applique is portable, forgiving and creates a deliciously textured piece. Add in vibrant colors of wool, and you have a fun, creative project to bring with you on outings or to work on during the evening. To begin you will need:
wool
14″ square of backing- you can use fabric or wool. I am using a star print from the Celebrate America line by Riley Blake Designs.
thread and needle- I am sure there is a "best" thread to use, but I just used whatever all-purpose thread I had on hand that matched the wool I was using.
12″ embroidery hoop- to hold your backing taut, especially if you are using fabric
And not required but strongly recommended: freezer paper- you can use pieces cut from a roll of grocery store freezer paper, or you can purchase sheets prepared for the printer. I buy mine off Amazon.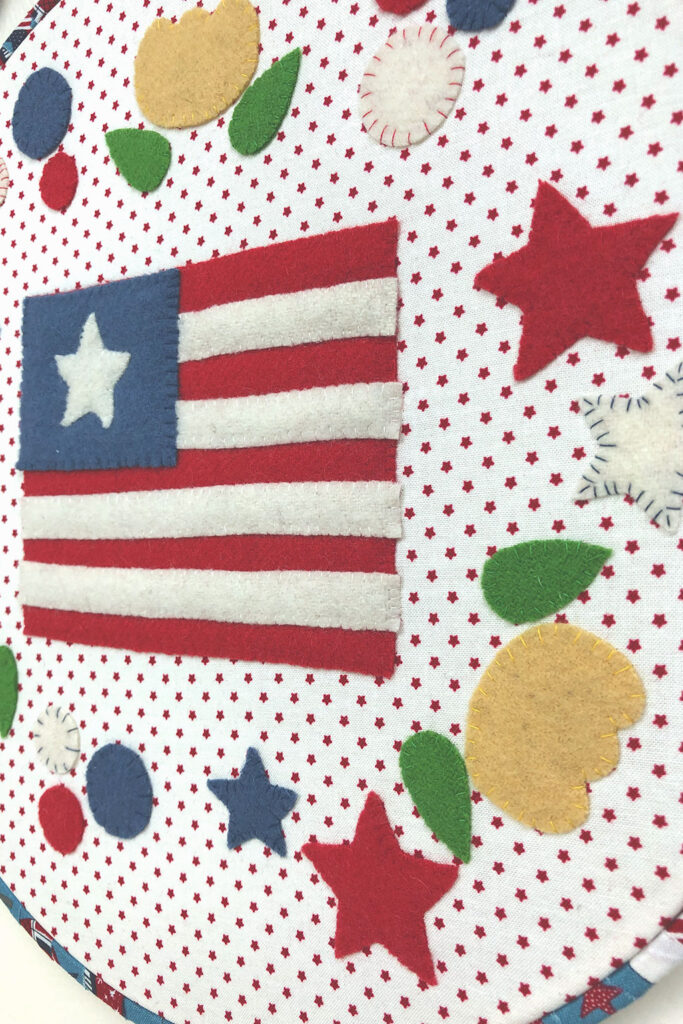 Tips for Wool Applique
I love wool for applique because you don't have to turn under edges, add seam allowances or worry about curves. Just position the pieces and stitch them down. Use a blanket stitch, a running stitch or you can do what I did and choose to do a short whip stitch. I chose to use coordinating colors for most of the pieces. On the white ones, I used a contrasting thread so they wouldn't get lost in the background fabric.
If you want to place all of the pieces at once, you can use a glue stick or a stapler to hold the pieces in place. I glued the flag in place and stitched it down, then I just placed the other pieces as I went.
To ensure accurate cutting of the applique pieces, I trace them on the paper side of the freezer paper. Cut around them using a narrow margin and use a warm iron to fuse the waxy side to the wool. Cut out the pieces along the line- perfectly cut pieces every time! When you are done just pull off the freezer paper.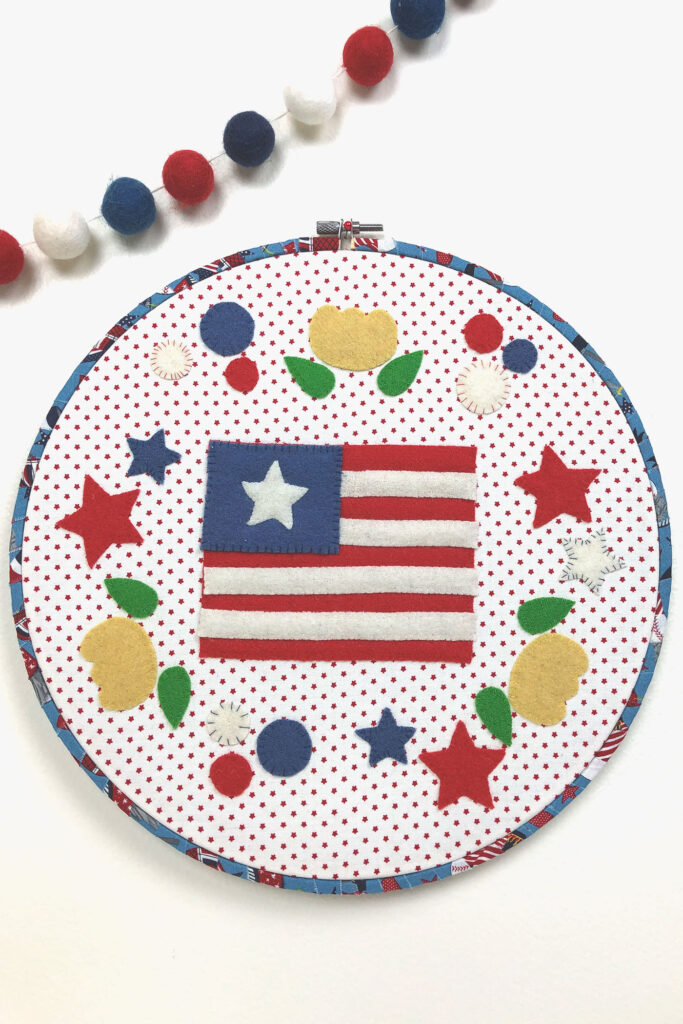 Stitch a Patriotic Hoop
Are you ready to make your hoop? Let's go!
Place your background fabric in your hoop
Cut out a 4″X5″ rectangle of red felt, a 2″ X 1 1/2″ rectangle of blue felt and 4- 1/2″ X 5″ strips of white felt (you will cut 2 of them down to 3″ for the top stripes)
Cut out all of your applique pieces from the pattern
Decide on placement of your applique pieces
Glue your applique pieces in place if desired
Stitch down applique pieces as desired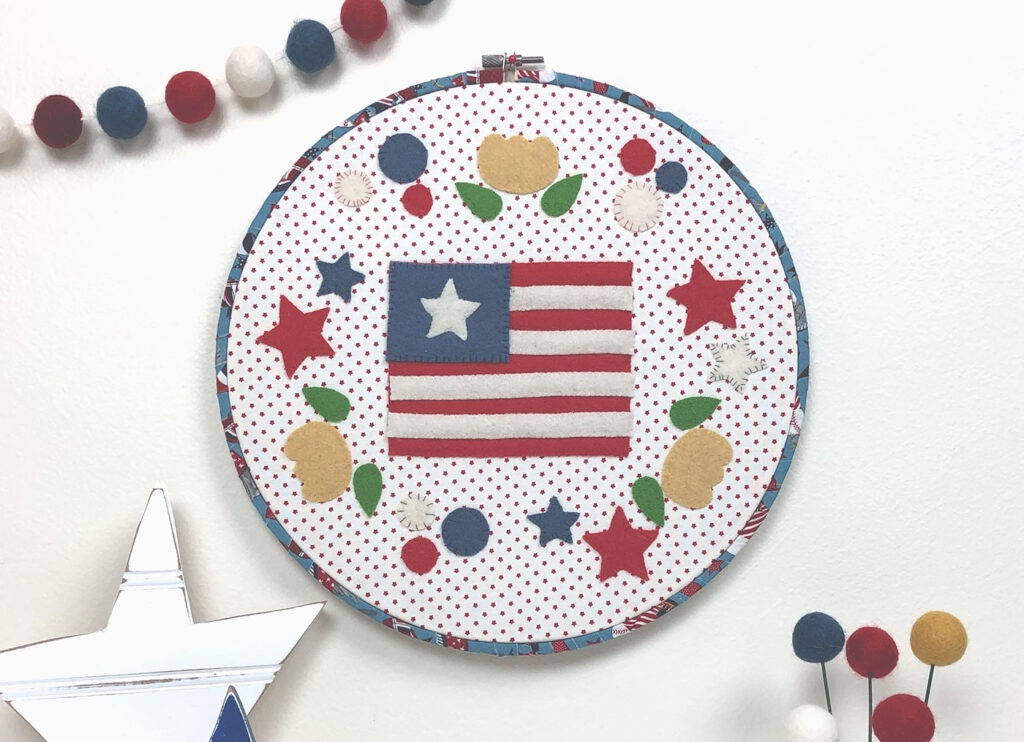 If you want to add fabric or trim to the exterior of the hoop, you can pull off the outer hoop and wrap it with 3/4″ strips of fabric or yarn. Once you are finished, place the outer hoop back on. Then, I like to trim the background fabric to about 1/2″ from the hoop. Next, I will use a thin line of hot glue on the back of the inner hoop and fold over the fabric to attach it to the hoop.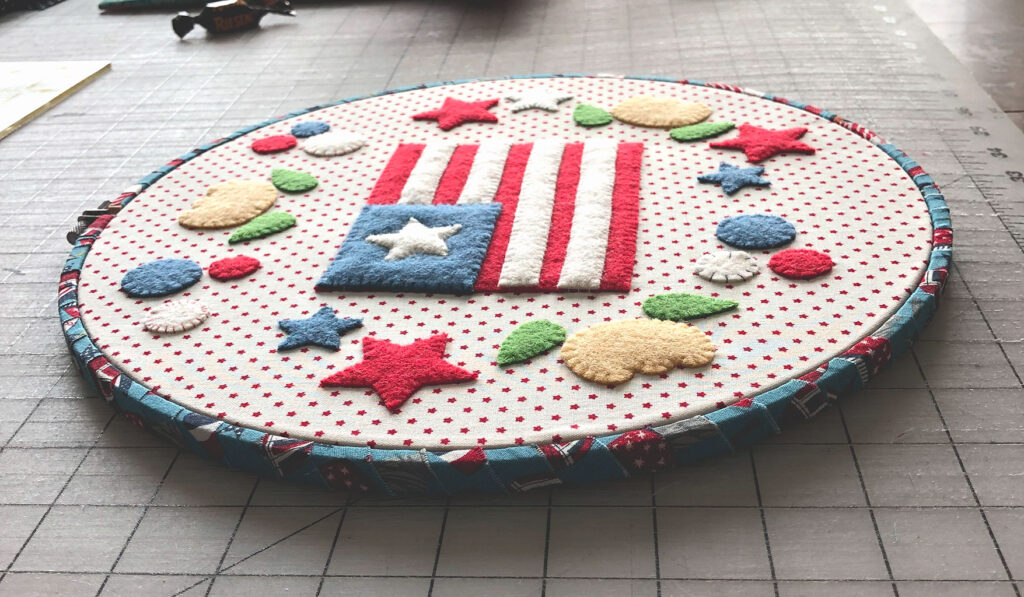 I just had to snap this picture of the project on my table because I love how it shows off the texture and dimension of this buttery soft woven wool. I hope you will give this method a try- I think you will LOVE it!
Let me know in the comments if you think you will give it a go!
Happy Stitching!
xoxo, Amy