This Bunny Hop Pillow was first published April 9, 2011 and was updated 3/7/2020.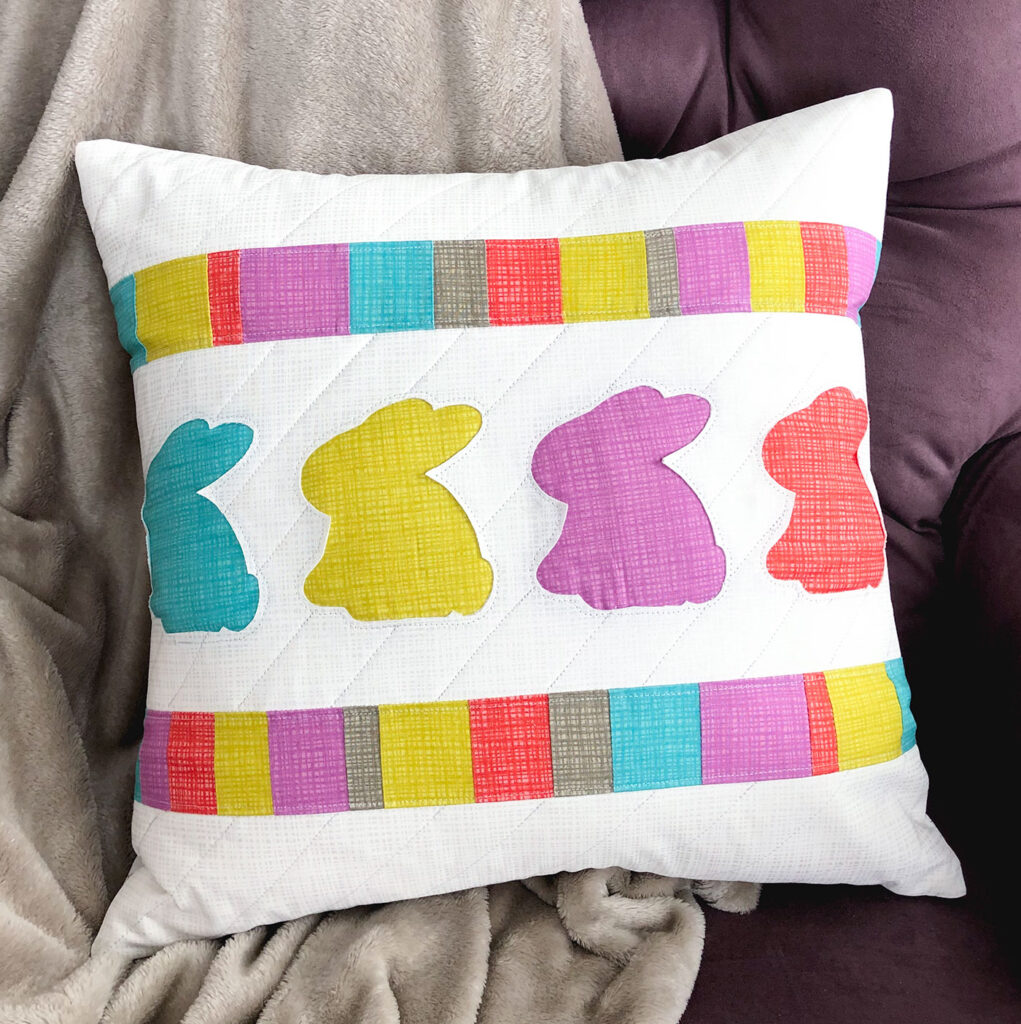 This bunny hop pillow continues to be one of my favorite Spring decorations. With reverse applique and just a bit of piecing this pillow has a sophisticated look while being fairly simple to execute. I am updating the post a bit from it's original publication to reflect new measurements and clearer images.
Bunny Hop Pillow Tutorial
All seam allowances are 1/4″ unless otherwise indicated.
Supplies:
Fabric- I am using Texture basics from Riley Blake Designs. You will need:

fat quarter of white
fat quarter for back
4- 5″ X 10″ (minimum size) pieces of colored fabric for bunnies and pieced border

18″ Pillow form
16-18″ zipper (if desired for pillow closure)
19″ X 19″ square of batting if desired
Medium weight fusible interfacing to back bunny panel (optional, but recommended) cut to 7″ X 19″
Cutting:
From the white fabric cut:

1- 7″ X 19″ strip for bunnies
2- 4 1/2″ X 19″ strips for top and bottom

From each of the colored fabrics cut

one 4″ X 5″ rectangle
Subcut remaining 6″ strip into 5″ long and varying width strips- I cut mine anywhere from 1″ wide to 2 1/4″ wide
Creating Reverse Applique Strip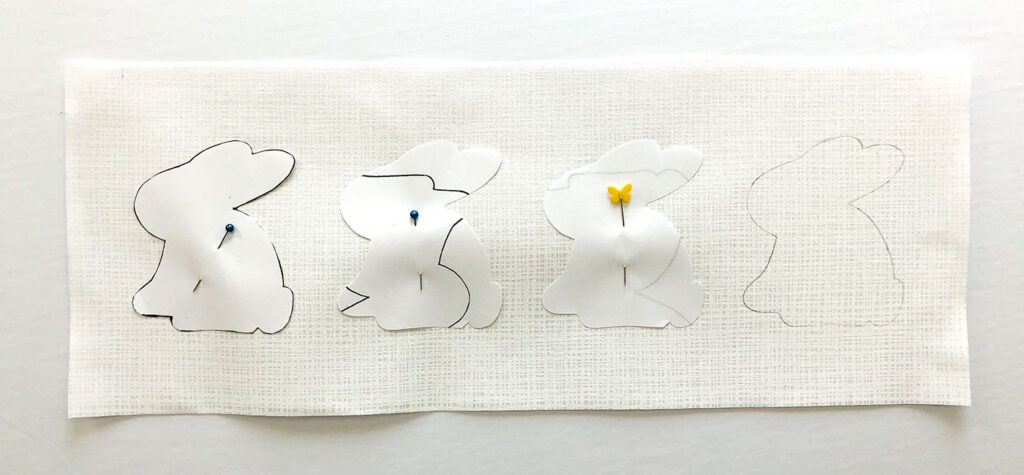 Print off the bunny template and cut out the bunnies.
Fuse the medium weight interfacing to the back of the 7″ X 19″ strip.
Center and distribute the bunnies evenly across the fused strip, leave more space on the outside of the bunnies. Mine were 1 1/2″ from top and bottom and I had a 1″ gap between them.
Lightly trace around each bunny.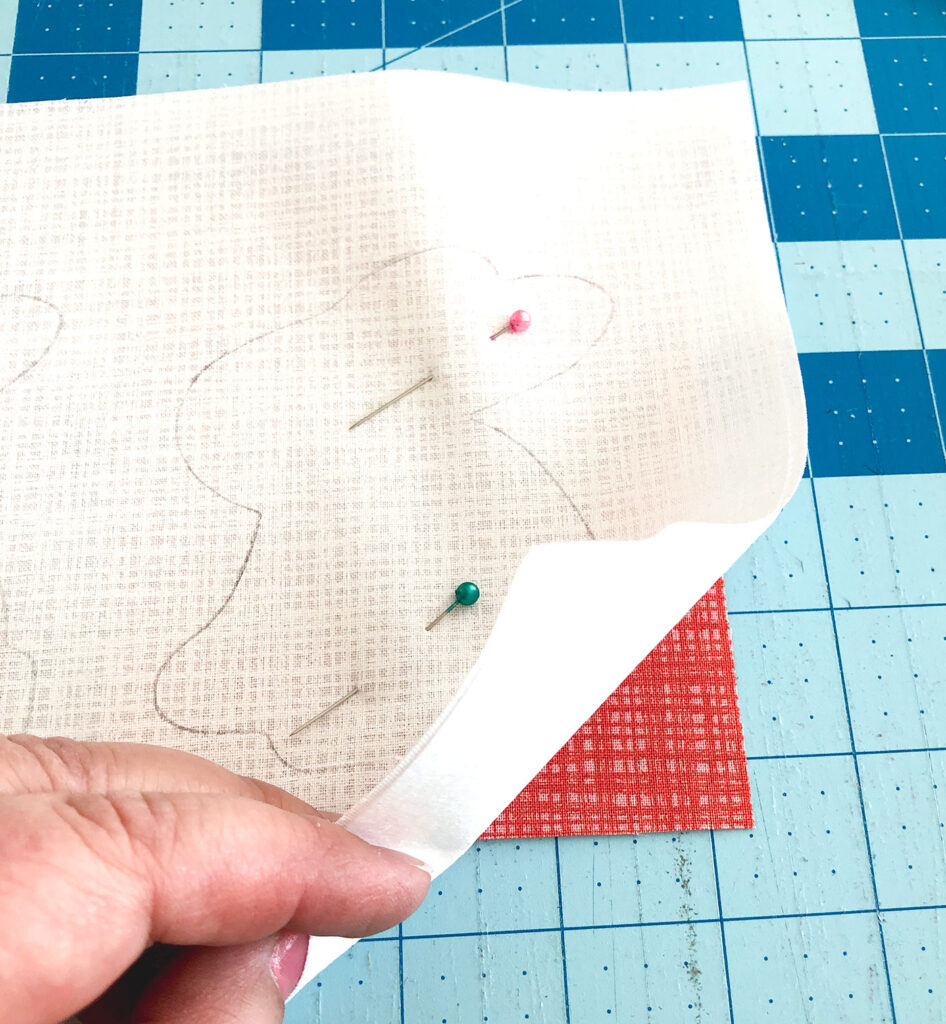 Pin the rectangle of colored fabric behind each bunny. You may find it helpful to use a light box or bright window to help you place the fabric. Pin into place well.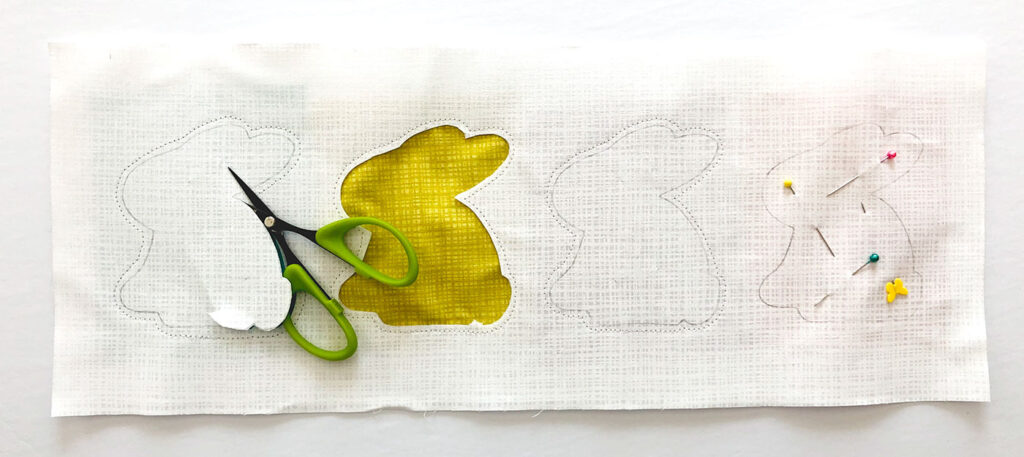 Sew around the traced line of the bunny 1/4″ away.
Carefully pull the white fabric away from the colored fabric and cut out the bunny right on or just outside the traced bunny line. *It is much more important that the cutting is accurate rather than the sewing.
Finish Bunny Hop Pillow Front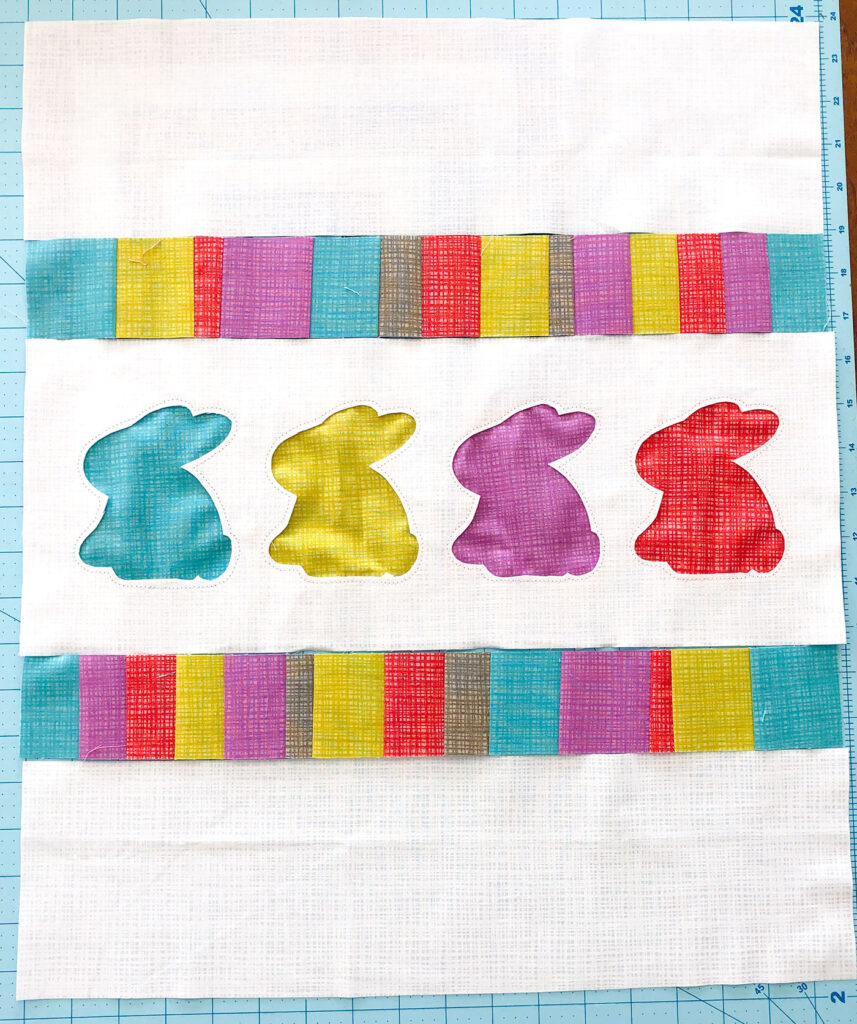 Sew the strips of colored fabric together to create a pieced strip at least 19″ long using a 1/4″ seam allowance.
Press all the seams in one direction.
Sub cut your pieced strip into 2- 2 1/4″ X 19″ strips.
Sew your pieced strips to the top and bottom of the bunny strip.
Add the 4 1/4″ X 19″ white strips to the other side of your pieced strips.
Finish Bunny Hop Pillow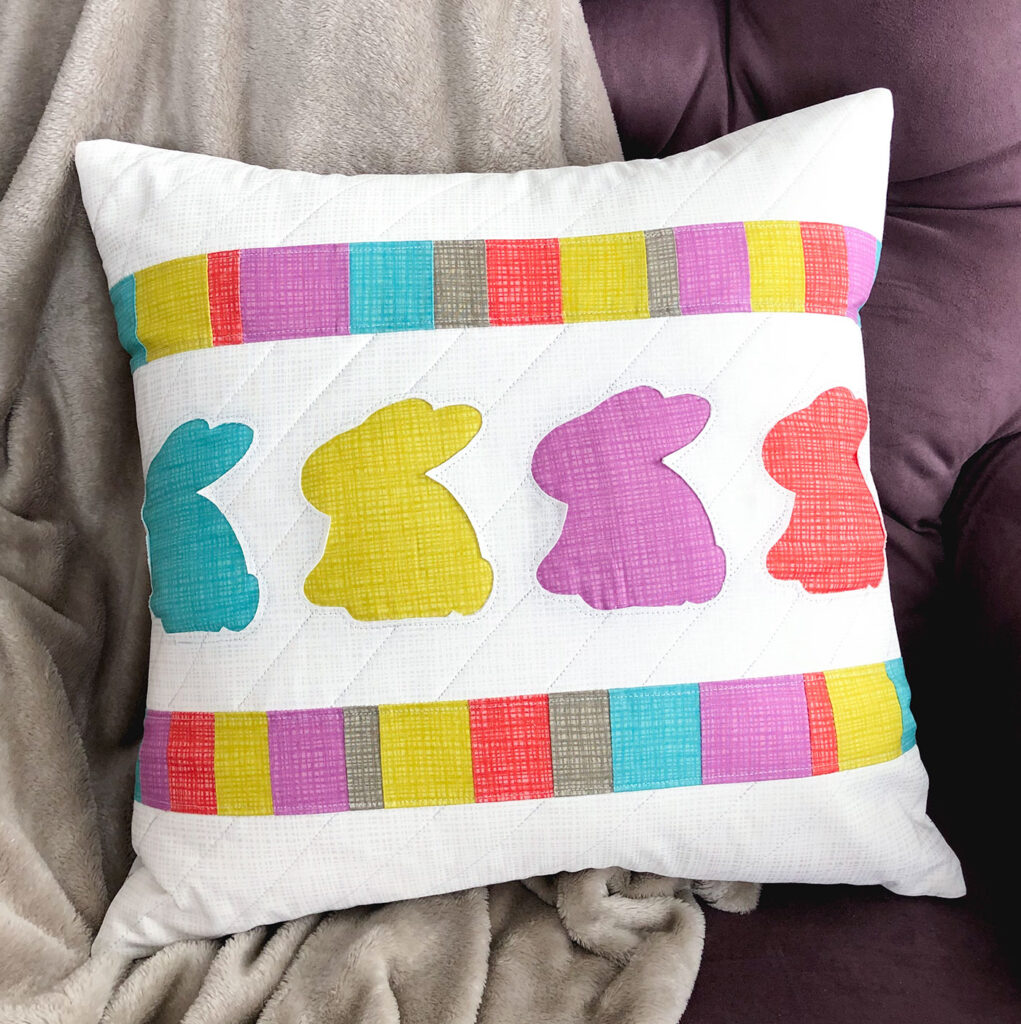 If desired, baste the pillow front onto the square of batting and quilt.
Trim down the pillow front to 18″ X 18″.
Create a pillow back using desired method. I used a covered zipper back for this pillow.
Sew pillow back to pillow front, right sides together- I prefer to use a 1/2″ seam allowance for this to make a more snug fit. Turn right side out and press out the seams.
Insert your pillow form and enjoy your new pillow!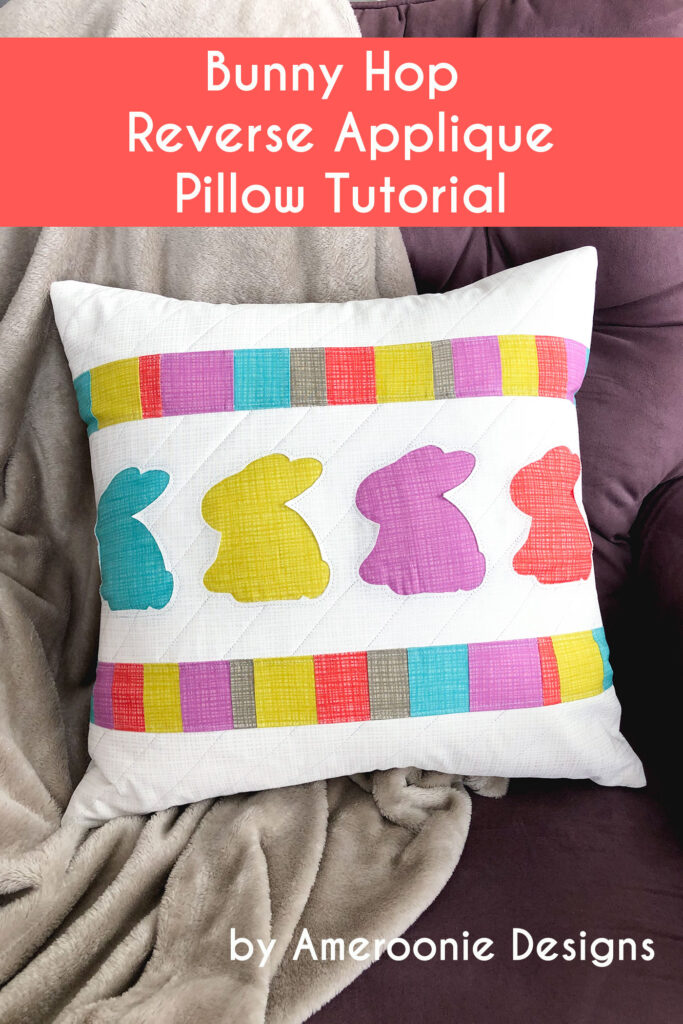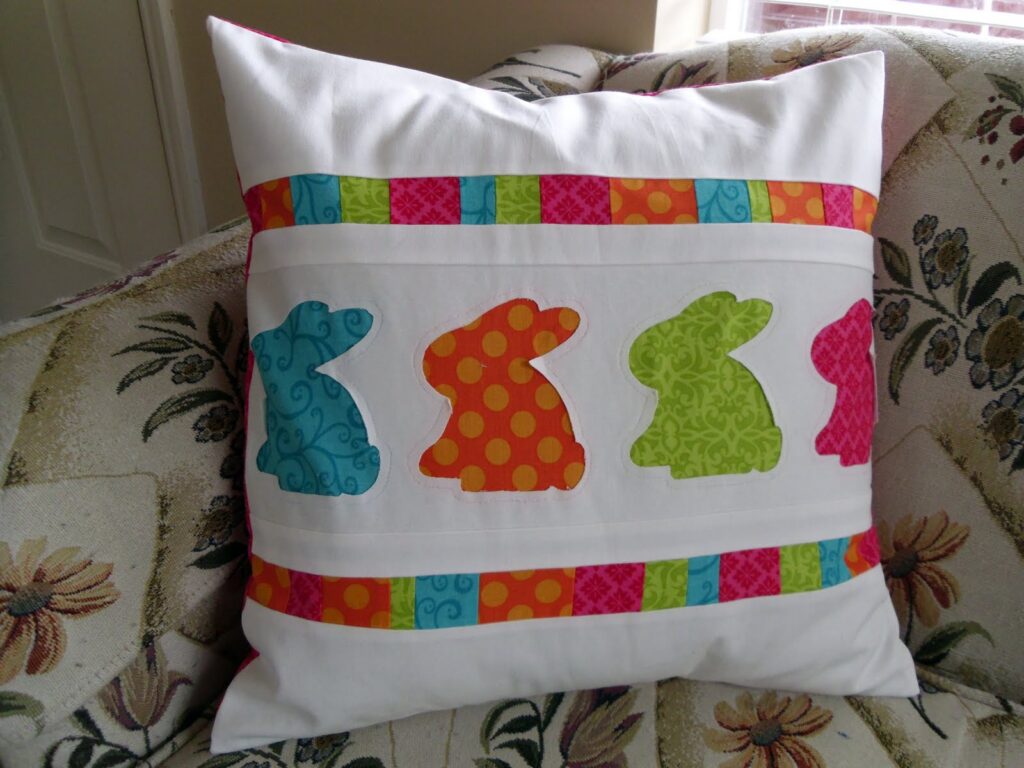 You can see the original pillow here. I still love the colors in this pillow, but the photography leaves a little to be desired. 😉
For more spring projects you might like this Scalloped Skirt tutorial for the perfect Easter outfit, or this Springtime Showers Mini Quilt that would be so fun to coordinate with your new bunny pillow!
Happy Springtime Sewing my friends! xoxo, Amy