One of my favorite memories of growing up is how my mom would always decorate for holidays. It was magical seeing our home transform from the everyday to something special and fun. I loved seeing familiar decorations and hunting to discover what new treasures I could find. Carrying on this tradition has been such a fun part of being a mom! Now you too can create a spooky cute home with TWO new Halloween sewing patterns!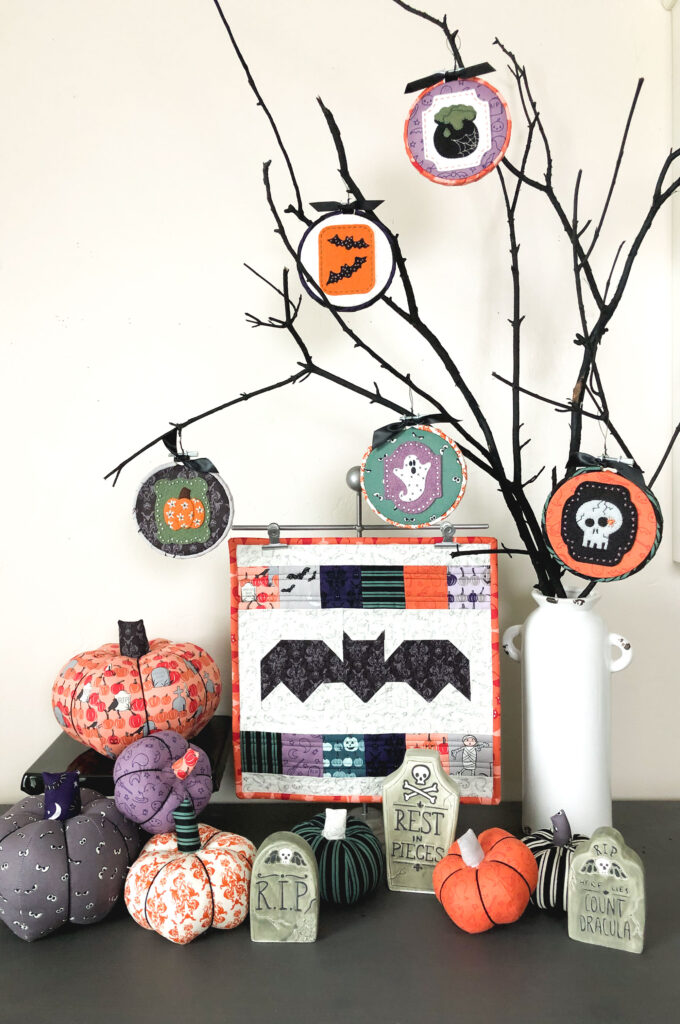 Batty Mini Quilt
First I want to introduce you to this cute Batty Mini quilt. Finishing at just over 12″ square, this darling quilt is a perfect size for gallery walls. Or, use this fun display stand to add your mini quilt to a mantel or shelf! The pattern uses traditional piecing and is a quick project to finish. Also, because the angles of the bat require an exact 1/4″ seam allowance, this pattern is recommended for an advanced beginner quilter.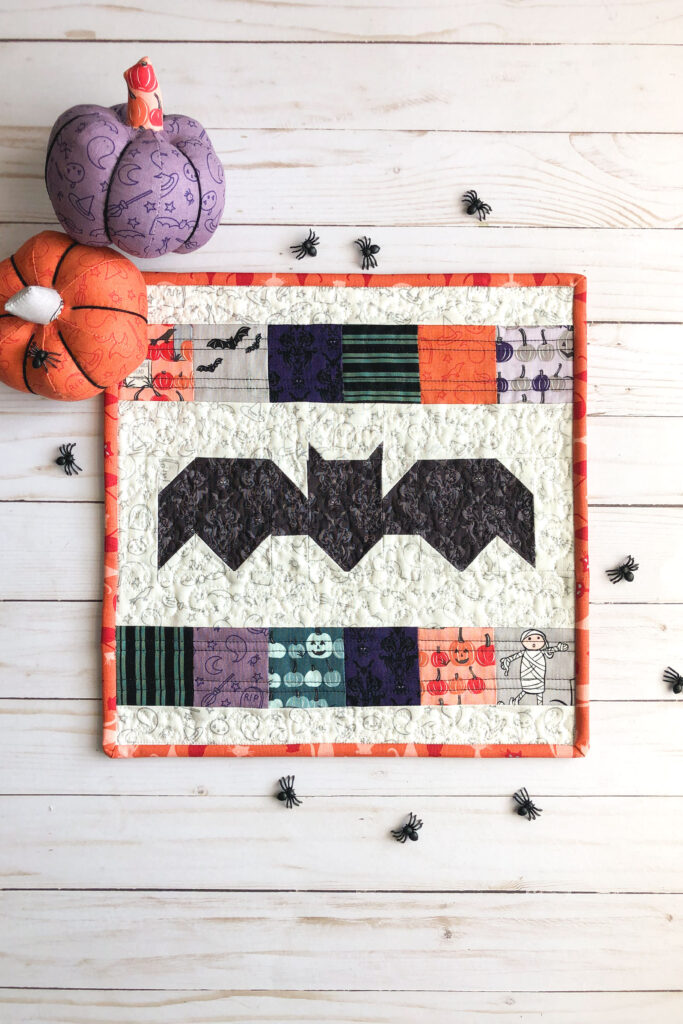 Fabric requirements for the mini quilt are 5 fat quarters. (5 fat quarters will give you enough fabric for the mini quilt, a set of pumpkins and some left over for either a banner or a mini pillow) You can add in some scraps if you want to make the patchwork borders a bit more scrappy. Also, I prefer to use a basic or solid fabric for the backing because you don't ever really see it. If this is how you prefer to do it as well, you can get by with just 3 fat quarters and some scraps, plus the 13″ square of fabric for the background. If you are looking for a larger mini quilt to add to your Halloween decor- you can find a free pattern here!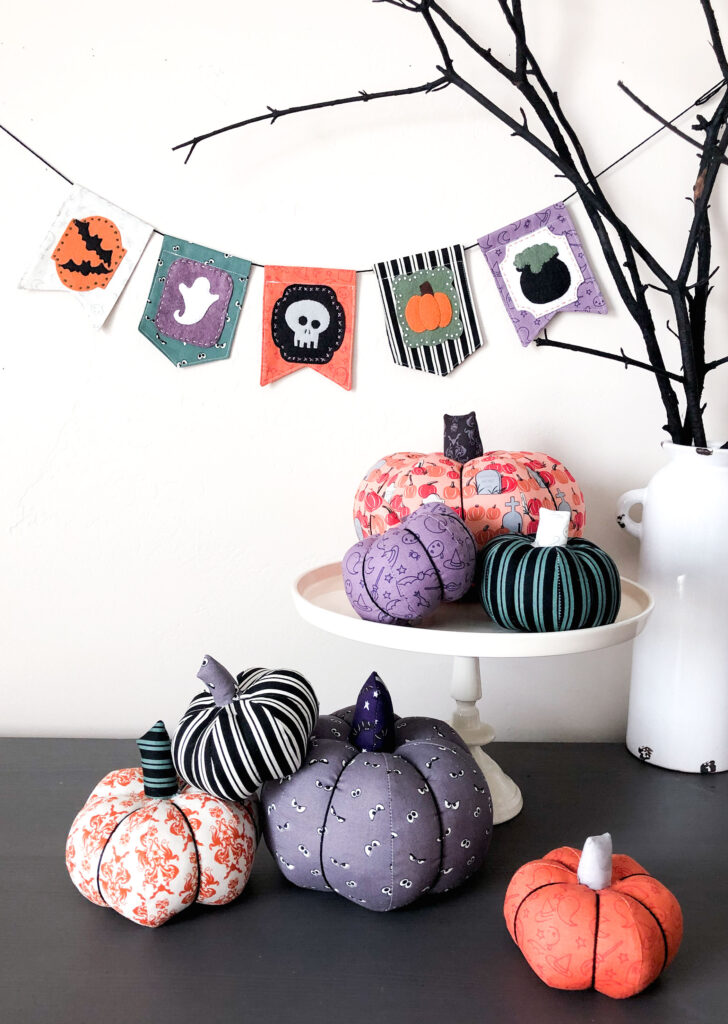 Halloween Icon felt applique pattern
Next in the line up of new Halloween sewing patterns is this adorable Halloween Icon pattern. Felt applique adds charm and fun to mini banners or ornaments! Included in the pattern is a stitching guide to add embroidery stitches as well.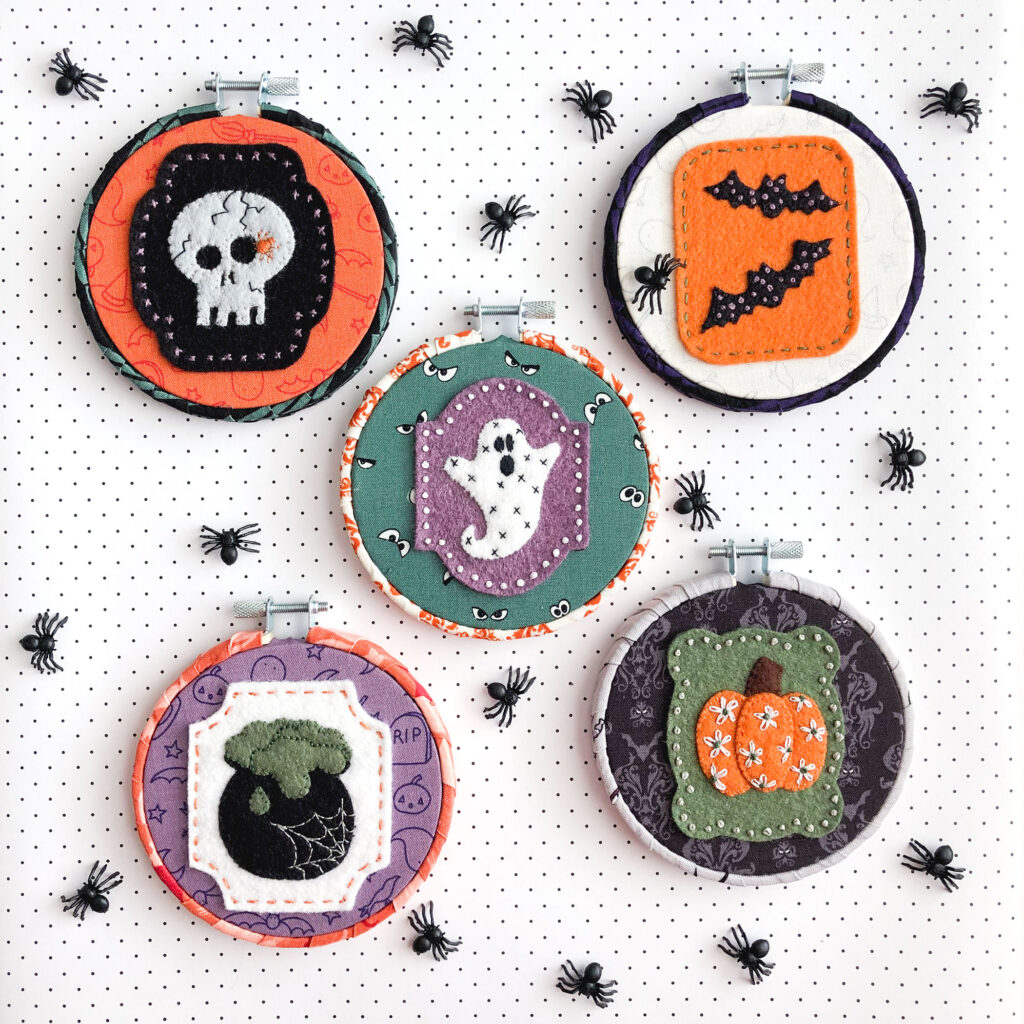 Supplies needed for the Halloween Icon pattern include wool blend felt, embroidery floss, fabric (either 4″ (w) X 10″ rectangles or 6″ squares) plus any embellishments you want to add.
Love both of these patterns? I have a special listing in my Etsy shop with both patterns included at a discount! Stay up to date with my newest pattern releases (plus get special discounts) by signing up for my newsletter with the form below.
Enjoy making your house spooky cute! (and tag me in Instagram if you do @amerooniedesigns) Happy Sewing! Amy