Fabric for this post was provided by Riley Blake Designs for participation in the Spooky Hollow project tour. The project and opinions are all mine.
Work, housekeeping, homework, laundry, the business of life is incessant. I turn to creativity to find a little respite from the chaos. Also, to create something that actually stays done. When time is at a premium, I find ways to make the process faster, but still satisfying. And that is where fabric panels come in. Turning a fabric panel into a stunning mini quilt takes less time because the center focal point of the quilt is already done for you.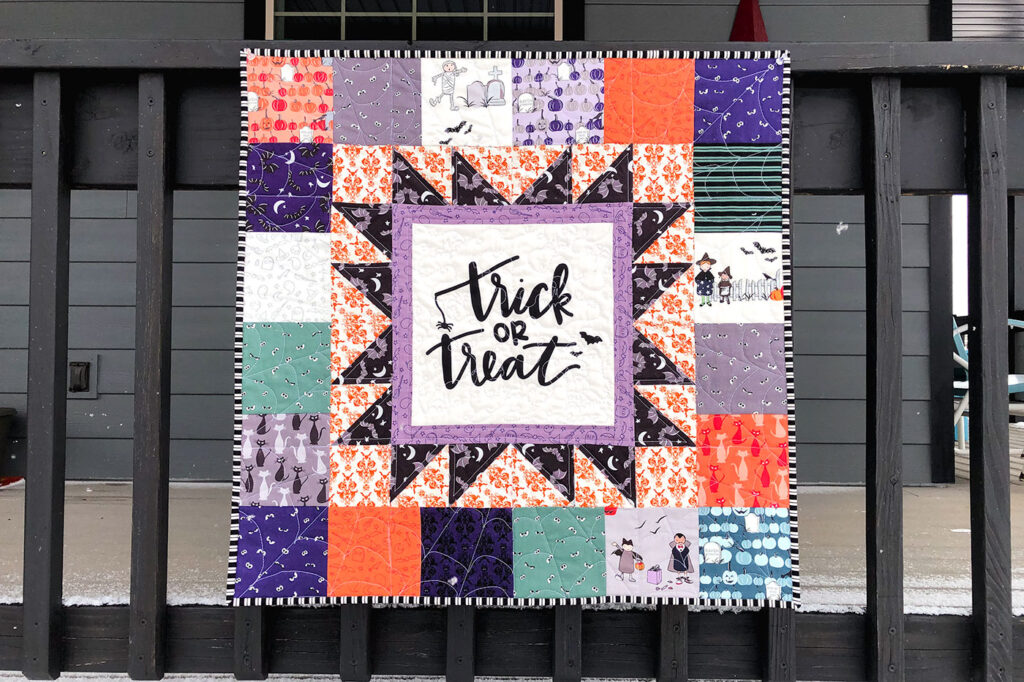 This "Trick or Treat" panel is a great example. Originally meant to be made into a tote bag, it is the perfect size for a lovely statement piece and it took no work at all. Just be sure to center the image when you cut it down to the size needed for the quilt block/ mini quilt.
Spooky Hollow Fabric Panel Mini Quilt Pattern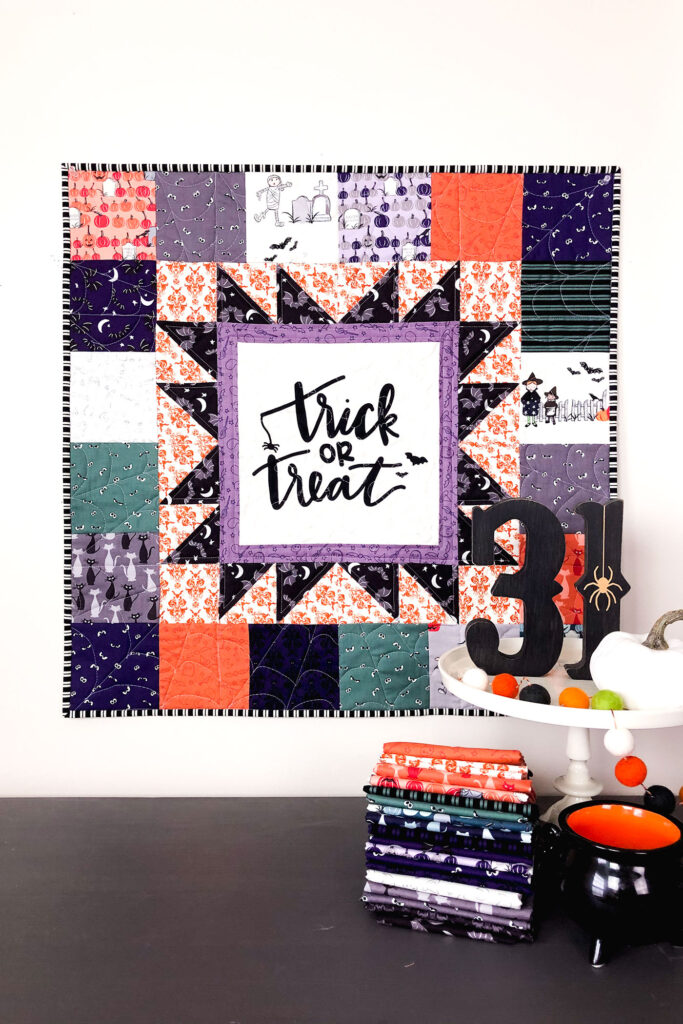 This mini quilt is a free pattern for newsletter subscribers that I first created using the Oh Happy Day fabric line. The instructions detail how to construct the center block, as well as directions for turning the block into two different mini quilts. The mini quilt I first made used the smaller patchwork border, but I absolutely love this simpler border for showing off the many delightful prints in the Spooky Hollow fabric line. You will get the pattern sent straight to your inbox when you sign up for the Newsletter below.
And, if you want to see how the quilt block looks turned into a 20″ pillow- you can see it in action in this Shark Teeth pillow post.
Spooky Hollow Fabric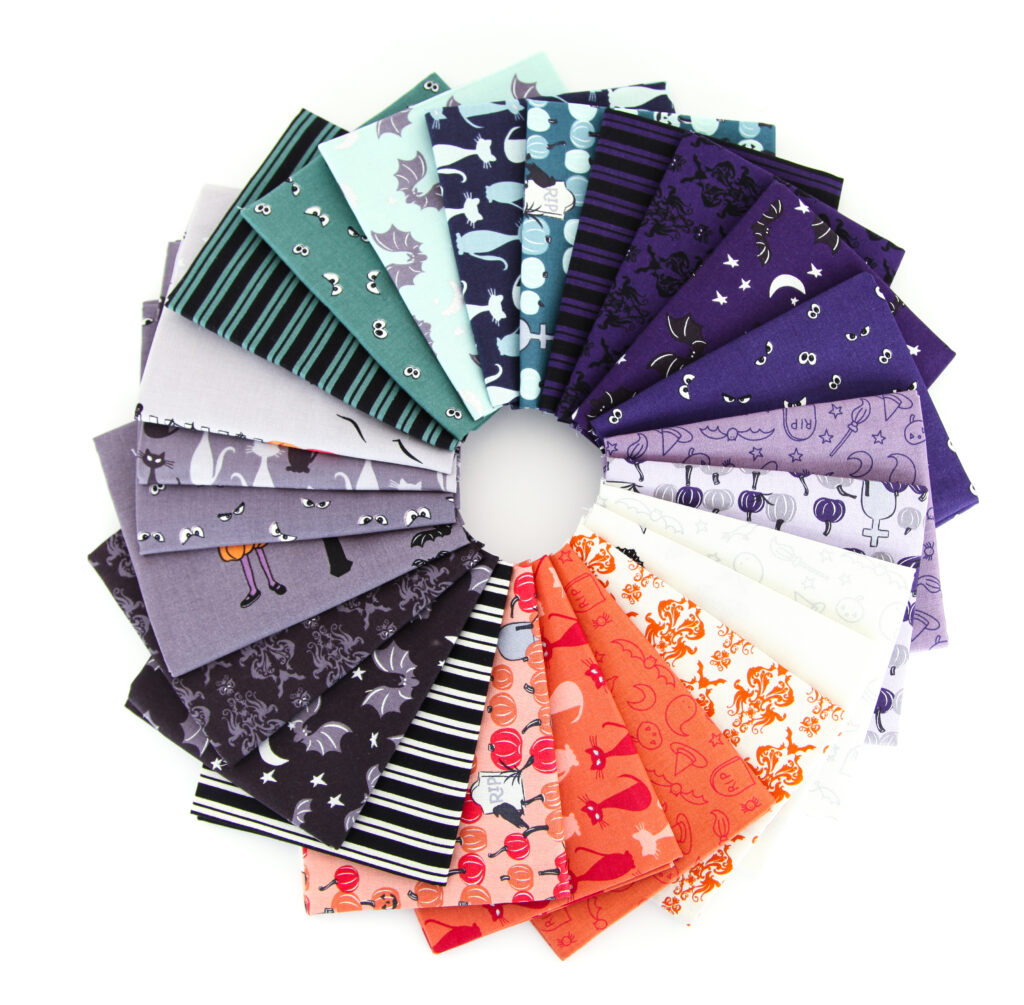 There are so many reasons to love this fabric line. First, the main print of this line is so fun with the darling trick or treaters in their costumes. As you can see in the mini quilt I made, it's perfect for fussy cutting. Second, while the tone on tone icon prints are probably my favorite, you can't really go wrong with any of them. The teal/green colorway is a fun and striking alternative Halloween color and I love it! Third, the eyeball print glows in the dark!! Finally, of course, the fabric panel is darling. The tote bags are designed to be two sided and the instructions are included right on the panel itself. But, as you can see, they are also perfect for using as focal points for large scale blocks.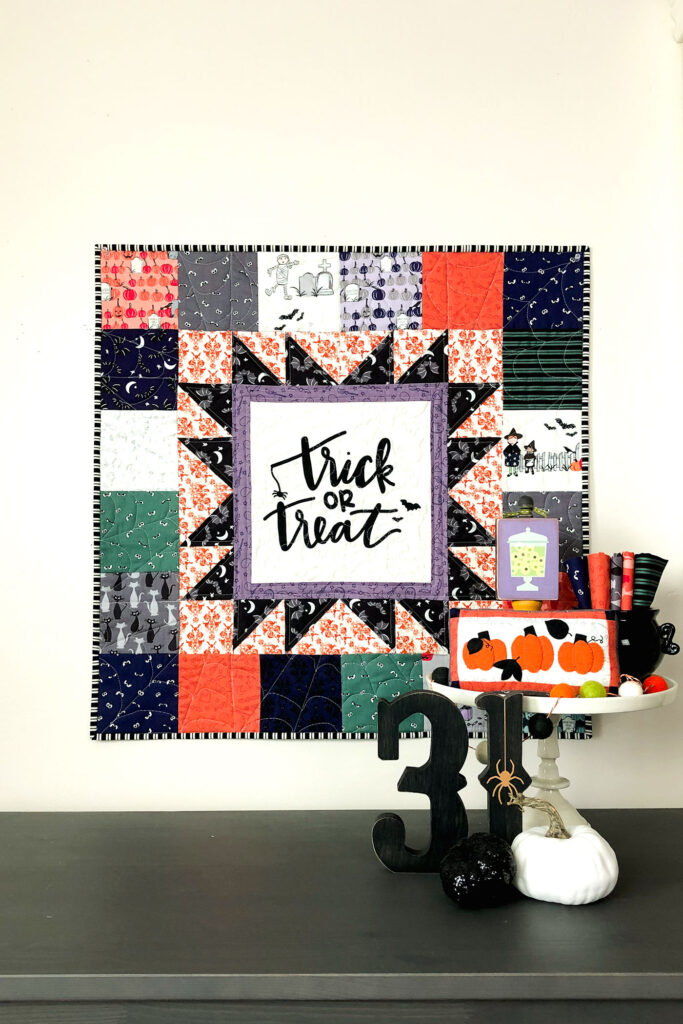 For a quick and satisfying finish, you just can't beat turning a fabric panel into a mini quilt. Sign up for the newsletter, get the download, and let's get creative!
Happy Sewing! Amy