This mini Rainbow Applique pattern is the perfect accent for a mug rug, zipper pouch or to stand on it's own as home decor in an embroidery hoop. However you use it, it is sure to bring delight to your creative efforts.
Download the free printable Mini Rainbow Applique pattern here.
Felt Applique- Mini Rainbow Hoop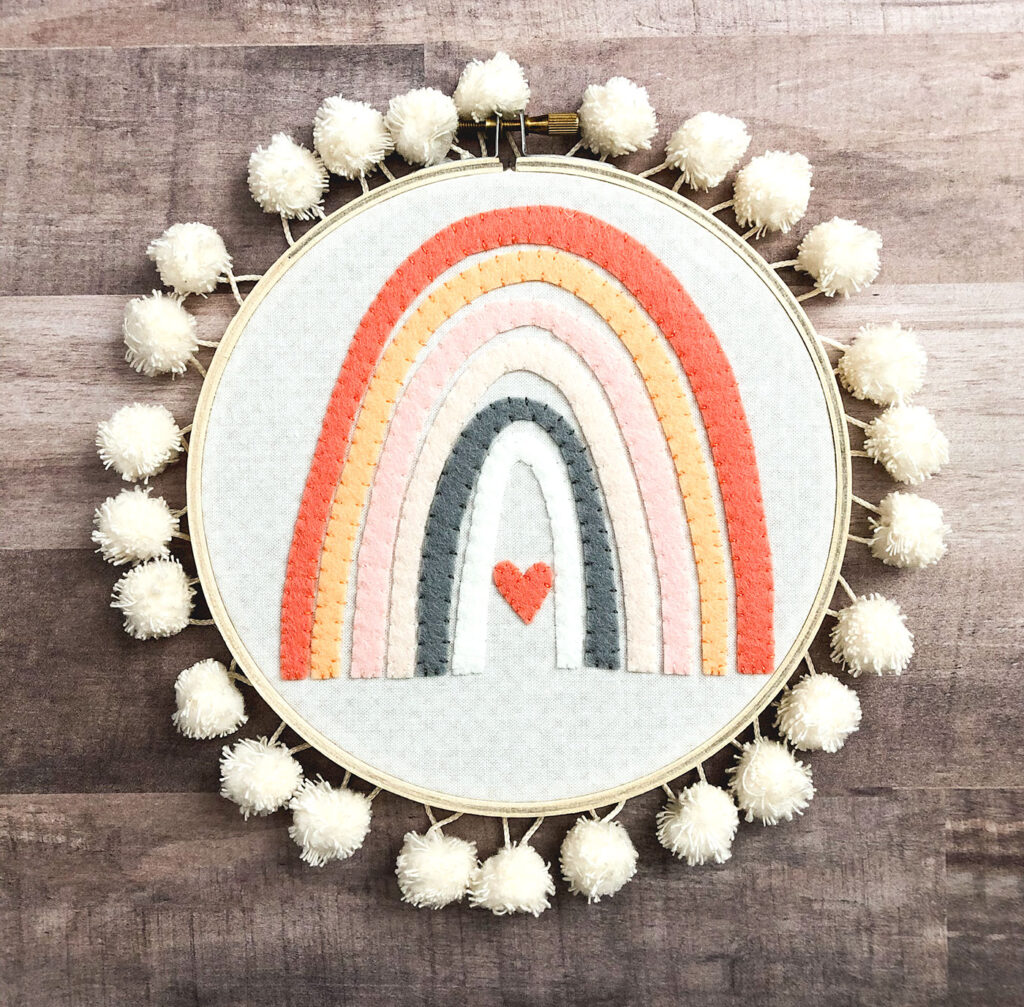 This felt Rainbow Mini Hoop is a fun hand work project that is both portable and darling! I used Bellwether 100% wool Felt from Benzie Design for this version, but any wool blend felt would work. I love this soft color palette which is a departure from my normal. This project uses a 6″ embroidery hoop and an 8″ square of background fabric. The rainbow is stitched down with a single strand of coordinating floss using a simple whip stitch.
For more thorough directions on how to do wool applique, visit this Rainbow Wool Applique Pincushion post.
Raw Edge Applique- Mini Rainbow Mug Rug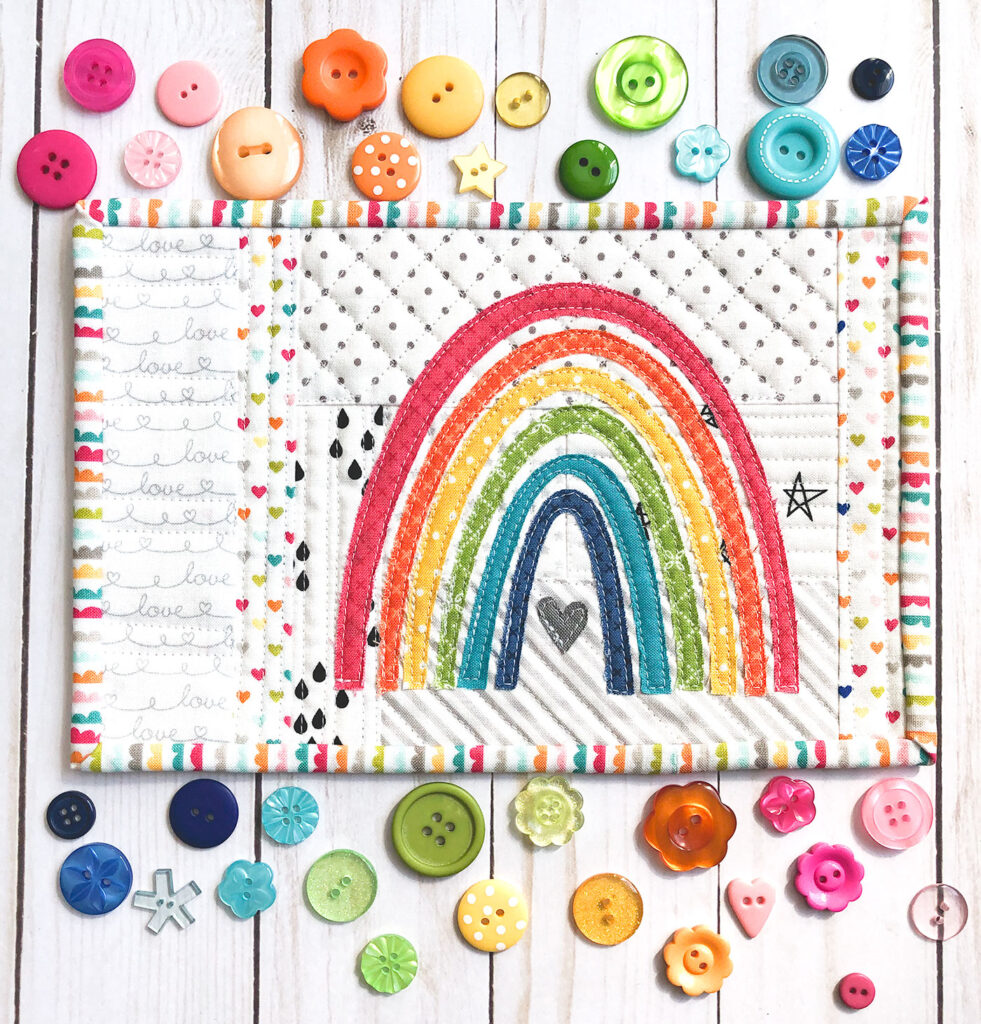 This mug rug is another perfect example of ways to use this mini rainbow applique pattern. The mug rug measures 6″ X 9″ and the rainbow fits perfectly. I will shared a tutorial on how to create the quilt as you go background for this version of a mug rug here, but you could also just use a single piece of fabric as the background. I like to print off the applique pattern onto printable sheets of heat n bond lite, but you could trace them onto sheets of heat n bond also.
Click over to my Watch For Rainbows pillow post for more detailed directions on creating raw edge applique.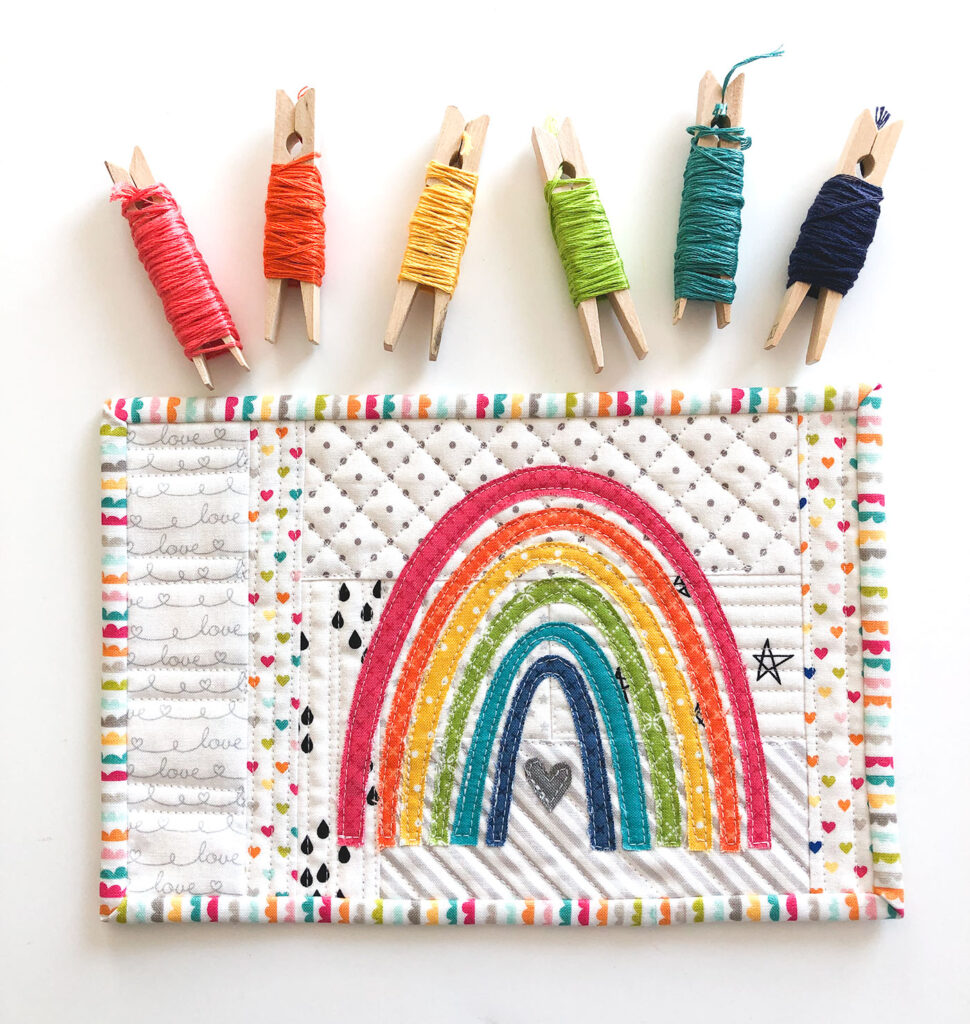 It would be super fun to add some hand embroidery to your mug rug for some added details. The possibilities for applications for this mini rainbow pattern are endless!
Which project are you going to make first?
For more rainbow inspiration- this Mermaid and Unicorn banner is a fun project. And if you are in the mood for a quilted project, my Rainbow Sunshine Mini Quilt/Pillow is a fantastic and fun project.
One last note: if you make up one of these project, or anything that makes you happy, please tag me on Instagram and use the hashtag: #makingrainbowswithAmy. I am trying to help spread some delight and cheer in these challenging times and I would love to have you join me!
Happy Sewing my friends! xoxo, Amy