The fabric for this post was provided by Riley Blake Designs as part of the Noah's Ark Fabric blog tour. The project and opinions are my own.
Shaun Wallace has such delightful illustrations in her fabric. When I saw this darling Noah's Ark fabric, I just knew I wanted to make up something fun with it! However, my original project changed as the circumstances of the world rapidly evolved with the outbreak of Covid-19. Instead of focusing on the sweet animals and alphabet prints, I decided to shift over to the rainbows because I love what they represent in the story of Noah, and in my own life as well. Plus, with six kids in our smallish house, I can relate a lot to Noah being stuck in one place with all his family. 😉 Luckily, we don't have any animals in our ark yet! This Watch For Rainbows Pillow is a promise, a reassurance that even though things are uncertain, even frightening at times, there will always be beauty to be found if you just watch.
Watch for Rainbows Pillow Tutorial
Supplies: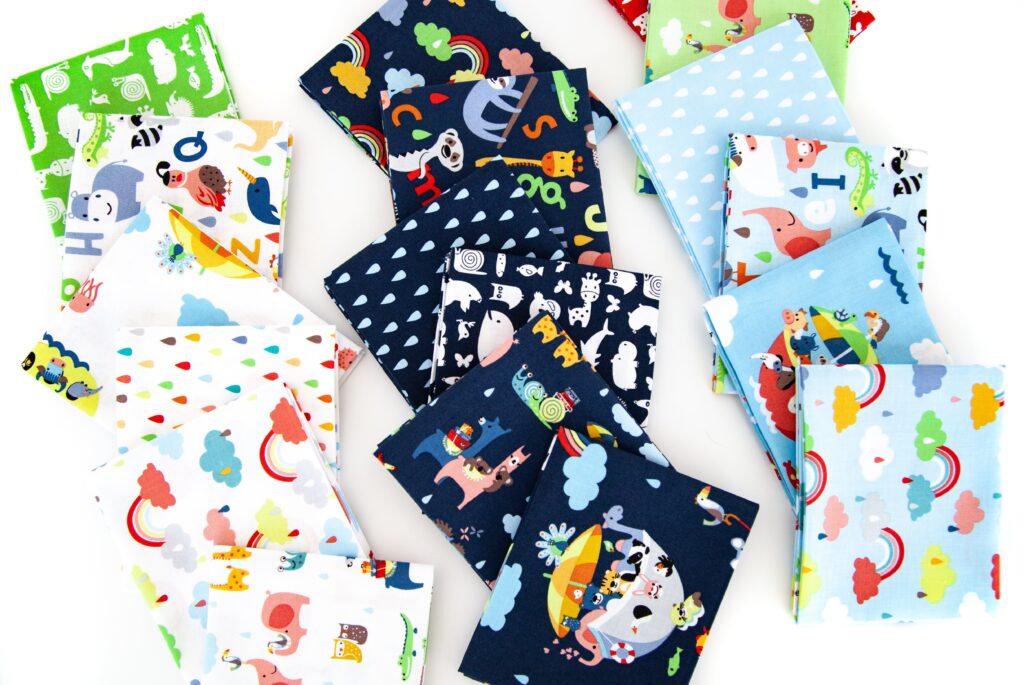 I am focusing on the rainbow print in this line, although I am sure you will see more of this fabric popping up in projects in the near future. The graphic animals prints, the animal pairs prints and the ark prints are all just too darling!
Fabric Requirements:
1/4 yard rainbow fabric cut into 2- 6″ X 20″ strips
1/8 yard navy rain fabric cut into 2- 2″ X 20″ strips
1/4 yard white fabric (I used white on white swiss dots) cut into 1- 6 1/2″ X 20″ strip
fabric for back of pillow- I used my hidden zipper pillow back tutorial which requires 1/3 yard of backing fabric and an 18-20″ zipper.
Additional Supplies: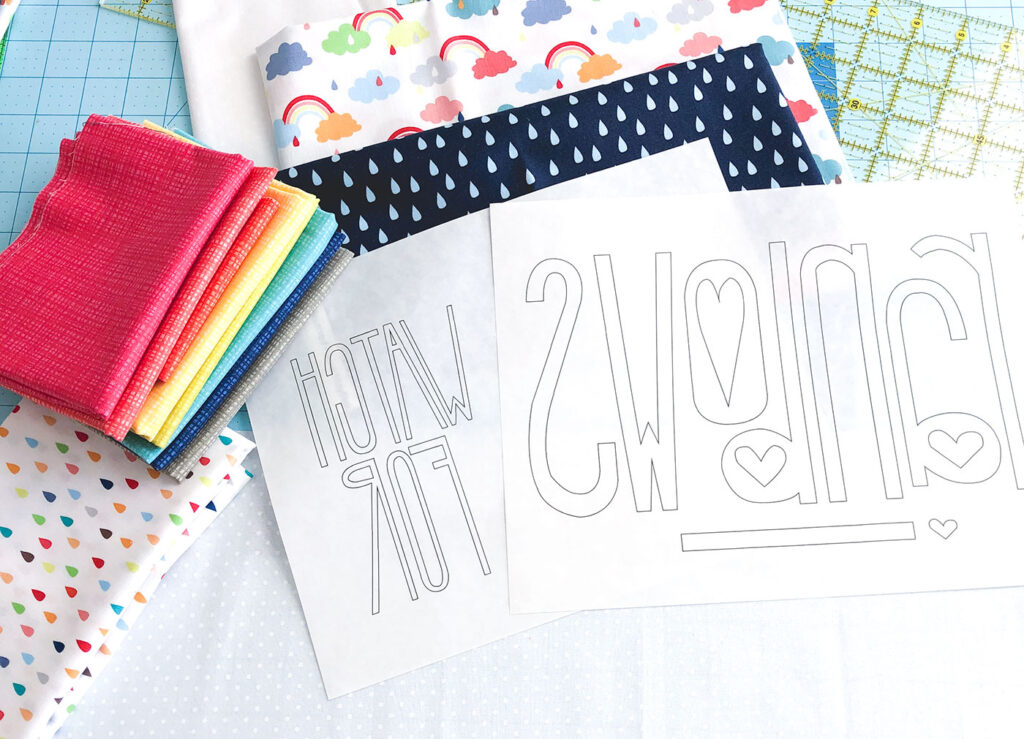 scraps of fabric for the letters, I used texture basics in rainbow colors and some dark gray solids
Heat n Bond Lite or some other sewable fusible adhesive. I prefer the printable sheets of Heat n bond lite to skip the tracing steps.
20″ Pillow form
Applique Letters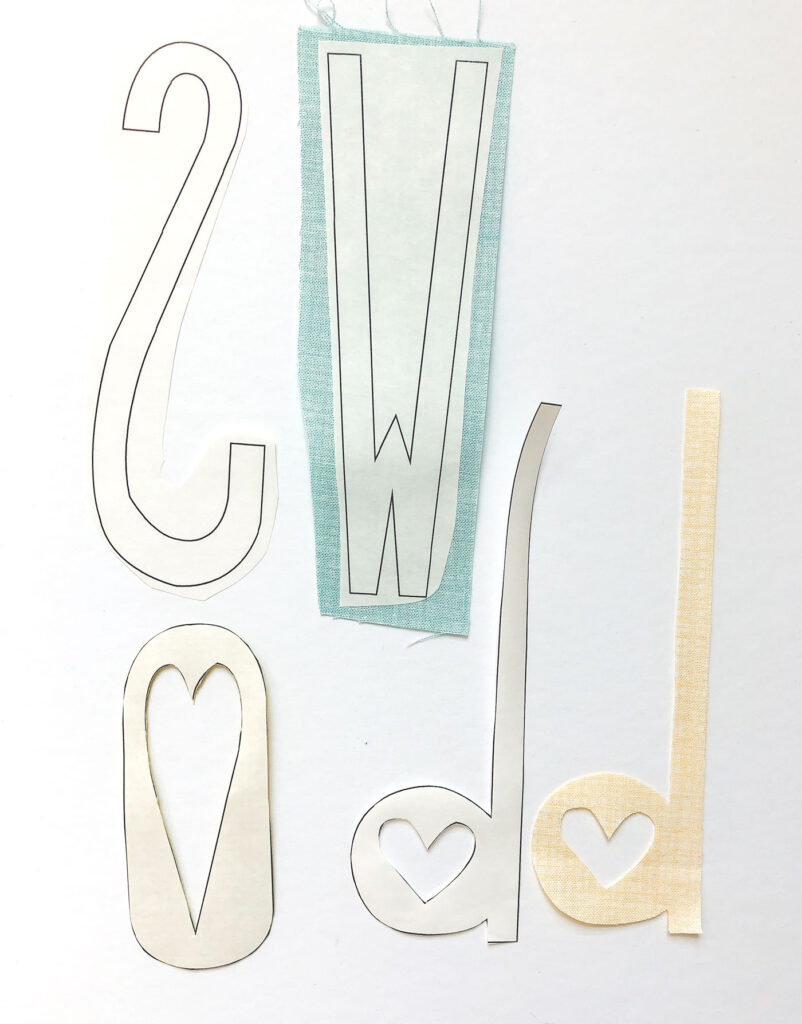 Print or trace your pattern onto the paper side of the Heat n bond lite
Cut around each letter of the word rainbow and around the group of letters for "watch for" leaving a slight margin.
Fuse the heat n bond to the wrong side of each fabric. Allow to cool.
Cut out the pattern along the line, including the centers of the letters if applicable.
Remove the paper backing from the letter.

Take your 6 1/2″ white strip of fabric and your letters to your ironing board.
Position the letters as shown, leave approx 2 1/2″ on either side of your letters to allow for the curvature of the pillow. Be aware of seam allowances on the top and bottom of the strip as well, you will need to leave more than 1/4″ of space above and below your letters.
Fuse your letters into place.
Use a narrow zig zag stitch or a straight stitch to sew around each of the letters. The "watch for" letters are really narrow, I just adjusted my zig zag stitch so it went all the way across the letter. An alternative method would be to embroider these letters or cut them out with an electronic cutting machine and adhere them using iron on or heat transfer vinyl.
Finish Watch For Rainbows Pillow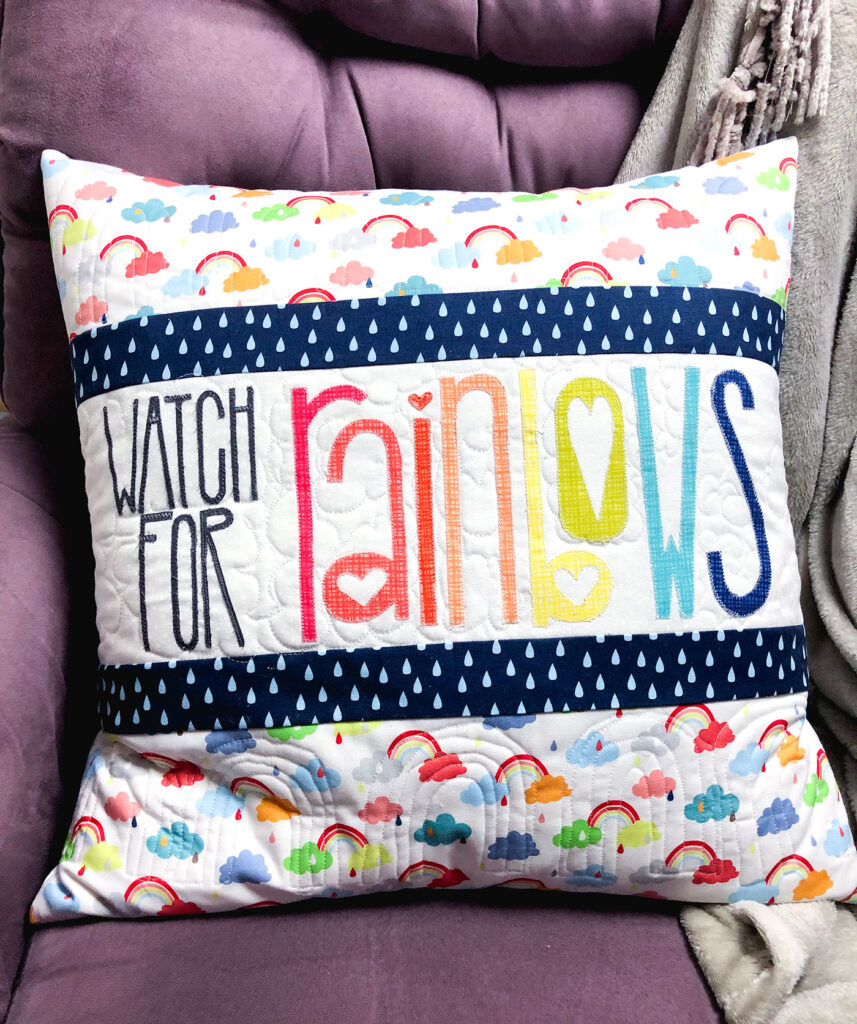 Finishing the Pillow front is fairly straightforward. Using a 1/4″ seam allowance add the rain fabric strips (2″ X 20″) to the top and bottom of the center white strip. Finally, add the rainbow strips (6″ X 20″) to the opposite side of the rain fabric strips. Add batting and quilt as desired before finishing your pillow using your pillow back method of choice.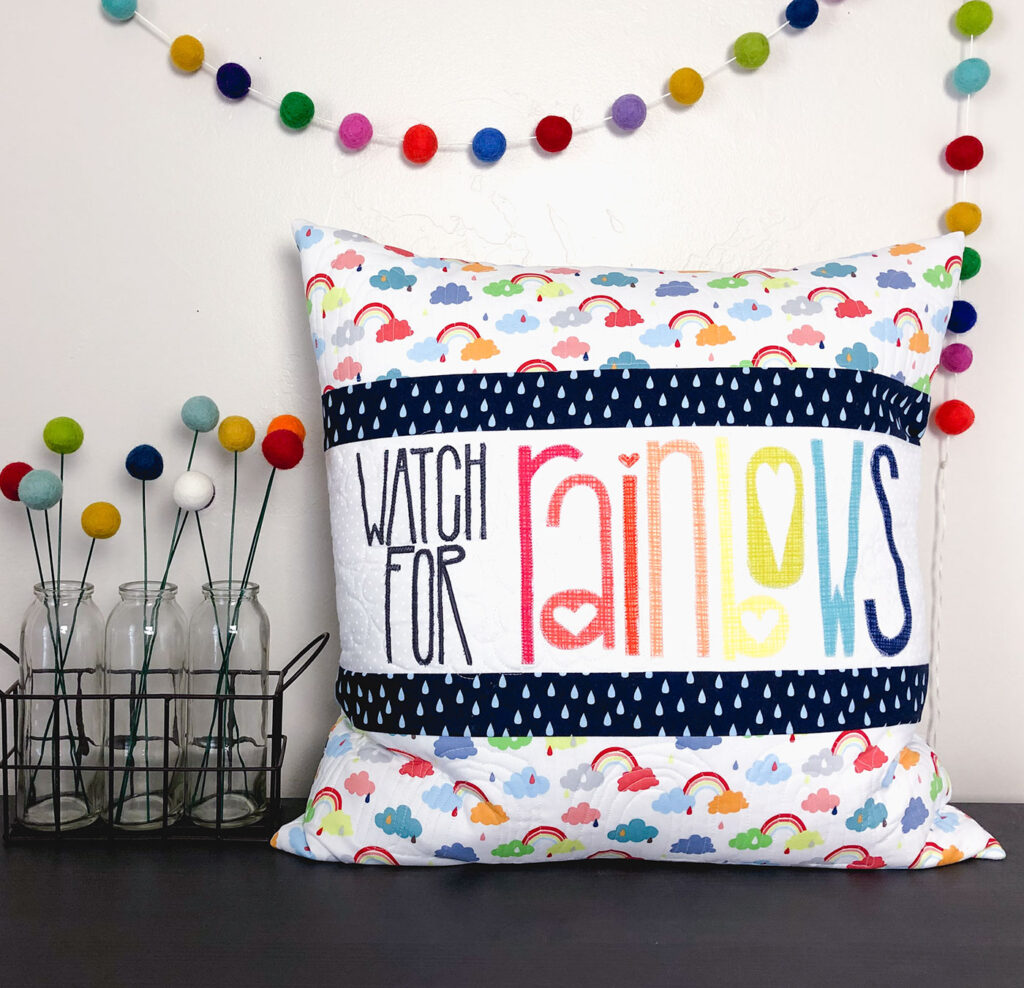 I just adore this bright and happy pillow. And even more, I love the reminder to be on the look out for those beautiful moments in every day where I can remember that good things exist among the hard. You see what you look for, so, will you join me and watch for rainbows?
And since we are all creative here, if you can't find a rainbow, you might have to make one! You can find the tutorial for my wool applique rainbow pincushion here, and for some thoughts on motherhood and rainbows, this post is really meaningful to me. I have an updated version of the embroidery shown in the post here in my Etsy shop with all the videos for the stitches available on the Riley Blake Designs You Tube channel.
I hope you find many rainbows in your daily lives my friends! Happy Stitching! xoxo, Amy